Kinross holidaymakers are trapped in a Tenerife hotel hit by coronavirus.
Estate agent Steve McHardy and wife Susan have been forced into quarantine at the Spanish resort's H10 Costa Adeje Palace.
The hotel has been locked down after an Italian guest tested positive for the disease.
Four people at the venue have now tested positive with more than 700 guests – including 128 from Britain – ordered to stay put.
Mr and Mrs McHardy were due to leave on Tuesday, but woke up to messages from friends who lived on the island telling them of the situation.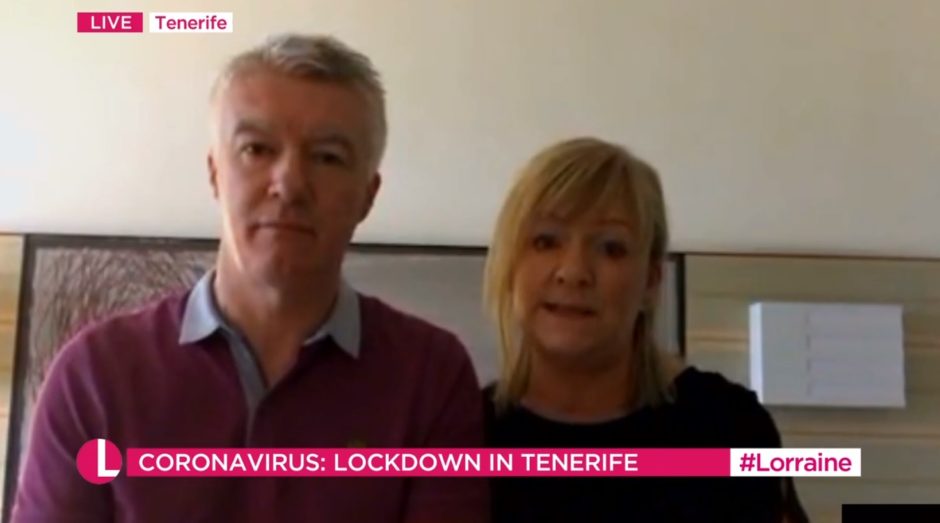 The couple, both 53, spoke to ITV's Lorraine show after three days of isolation. "Our nice four day break has turned into a minimum of 14 days," said Mrs McHardy. "At least that's what we've been told."
"We tried to phone the British consul but got nowhere. The phone line went dead."
Mr McHardy, who works for a firm in Dunfermline, said: "We got tested on the first day. They came round and took our temperature and gave us a thermometer so that we could keep an eye on our own temperature, which was helpful.
"We know that the masks don't work."
Mrs McHardy added: "At the beginning, we were getting food parcels put to our rooms, but now the only food you can get is at the restaurant so everyone has to go out of their rooms now.
"The worrying thing is not knowing how long we are going to be here. Its all the uncertainty, we don't know anything."
The couple were told that if others in the hotel tested positive, the quarantine could be extended by at least another 14 days.
Mr McHardy said: "If we're 14 days down the line, then we get another 14, it could build and build and when do we ever get home?"
Mrs McHardy added: "If we could get home and do our 14 days at home, I wouldn't mind. But if we have to stay here, we don't know when we'll get out."
The Foreign Office said it has no plans to evacuate the Brits at the hotel, but a spokesman said quarantine measures were being kept under review with authorities in Spain.