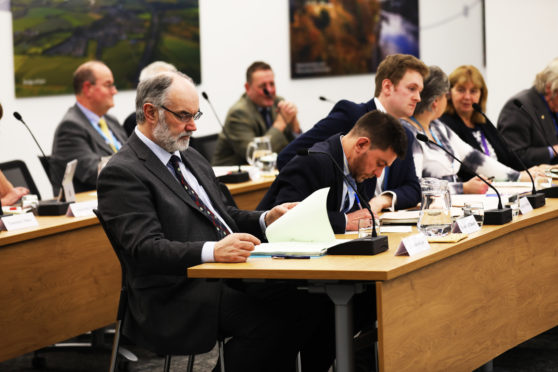 Opposition political groups in Perth and Kinross have revealed their spending plans ahead of this morning's budget talks.
Council officers have proposed a range of swingeing cuts to education and winter maintenance services.
Most controversially, swimming and music lessons, school crossing patrols and recycling centres could be axed.
The Tory-led administration will unveil its budget proposal today.
Other political groups will then get the chance to put forward their amendments, before a final vote is taken to decide the region's spending plan for the next three years.
It is the first budget meeting since the Tory-Lib Dem administration split following a row over councillors Colin Stewart and Callum Purves, who were suspended from the Conservative group in August.
In total, five budget plans will be put forward including one from Mr Stewart and Mr Purves – even though Mr Stewart is still suspended and won't be able to attend today's talks.
The SNP will pledge to protect instrumental music services against a proposed increase of £295 to £776 per pupil, and ask officers to come up with a more sustainable model for music provision.
The SNP will also reject cuts to secondary school and early years support teachers, and call for winter maintenance budgets to be protected.
The group wants to pilot free parking for electric vehicles to help address the climate change emergency, and reduce the cost of school meals to £2 for P4-P7 children.
Liberal Democrat group leader Peter Barrett said his party would protect the budget for school crossing patrols, while increasing funding for pedestrian crossings.
More money would go towards tackling out-of-school and holiday hunger, while mainstreaming the council's support for the Perth and Kinross Foodbank.
Cuts to school swimming lessons, supply teacher contingency budgets and winter maintenance would be rejected, said Mr Barrett, while the rising cost of music lessons would be limited to 10%.
To implement savings and protect services, the Lib Dems propose a council tax rise of 4.84% in 2020/21 and provisional increases of 5% over the next two years.
The Independent/Labour group said its budget would invest heavily in public transport, and would reject proposed cuts to winter maintenance, swimming classes and crossing patrols.
The group also wants to reform the instrumental music services, creating a new voucher scheme to help make it more accessible to those on lower incomes.
The administration group and Mr Stewart and Mr Purves' group declined to reveal their proposals before this morning's meeting.