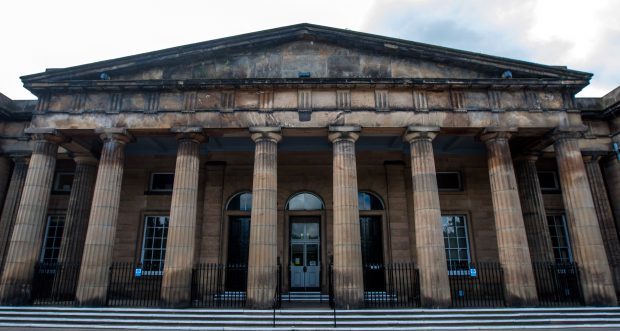 A blind paedophile who downloaded nearly 16,000 child sexual abuse images and videos has been allowed to walk free – because his condition would make it too difficult for the prison service to hold him.
Sheriff Lindsay Foulis told Andrew Haire he would normally be sent to prison because of the large number of images he downloaded in just seven weeks.
But the sheriff told him he could avoid jail because the feedback he had received from the Scottish Prison Service was that it would pose great difficulty for them.
Perth Sheriff Court was also told by Haire's solicitor that he should be freed as his deteriorating sight meant he would be unable to commit the same crime again in future.
Haire, 37, was found guilty by a jury of having and downloading a huge horde of child abuse images at the home he shares with his parents in Miller Road, Luncarty, between October and December 2018.
Sheriff Foulis said recent guidance from the High Court was that care should be taken in deciding whether to jail people affected by a disability, for human rights reasons.
He told Haire: "I have communication from the prison service which raises serious questions as to whether – if I was to impose custody – a closed prison could provide the necessary accommodation for you and the necessary protection to you?
"That would have regard to your vulnerability and also have regard to the fact you are prescribed certain medication – some of which might be attractive to certain inmates who might not take a charitable view towards a vulnerable person with a sex offence conviction.
"There is absolutely no guarantee if I imposed custody that they could provide the necessary facilities or cover the inherent risks.
"Accordingly, in these circumstances, it seems to me that I can deal with this matter with a non-custodial disposal."
Haire was fined £8,000 and ordered to pay it at £500 per month from his £1,200 per month benefits.
He was placed on supervision for two years and was added to the sex offenders register.
Haire claimed he had been trying to download innocent pictures of a fully-clothed Angelina Jolie lookalike because he was a fan of Tomb Raider.
Haire had a conduct requirement imposed yesterday to limit his access to internet-enabled devices.