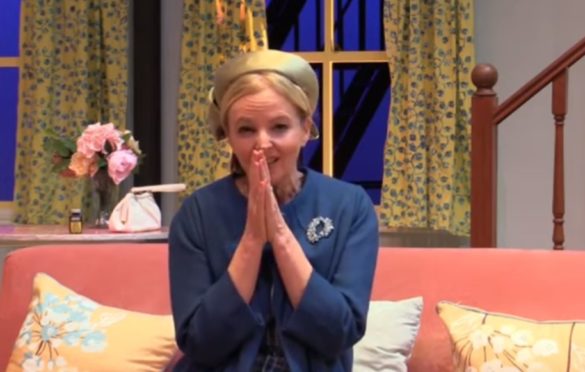 Eighties icon Claire Grogan has launched an emotional appeal to save Pitlochry Festival Theatre.
The Theatre in the Hills announced a temporary shutdown this week, declaring Covid-19 as a "critical threat" to the venue and the livelihoods of many local people.
A spokesman said: "Most of our funding comes from audiences attending our productions and spending time here with us.
"Without them the vast majority of our income is gone and the organisation will not be able to stay open."
Now Gregory's Girl star Claire has recorded a video message to help generate support.
The Altered Images singer, who was appearing in an acclaimed production of Barefoot in the Park, said: "We all know how tough it is for everybody out there. It's tough for all of us.
"But if you could find a way to support Pitlochry Festival Theatre it would be so much appreciated. It's here for you and for all of us, let's keep it."
Donations can be made at the theatre's website.
Coronavirus is proving a threat to cultural establishments across Scotland.
Perth's theatre and concert hall have also shut down, with all performances suspended.
Operators Horsecross Arts said the "difficult decision" was taken to ensure safety of staff, artists, visitors and audiences.
The cash-strapped organisation, which was bailed out by Perth and Kinross Council last year, has suggested those with tickets could – instead of asking for a refund – make a donation.
People are asked not to contact the box office, and anyone with a ticket for an upcoming show will be contacted in due course.
Some shows may be rescheduled.
Chief executive Nick Williams said: "As a charity we are reliant on ticket sales to continue to operate, it would make the world of difference to us if customers would consider donating ticket money or accepting a credit note rather than requesting a refund.
"We ask for people to please bear with us if this takes a little time, our box office team will be working as hard as they can to get through a huge volume of work."
He added: "We are grateful to our customers for their ongoing loyalty and many words of support.
"We are navigating uncharted waters. This is unsettling for each one of us, not to mention worrying for our staff, a threat to our organisation and challenging for all those in the arts industry.
"Our thoughts are with everyone who is living through these immensely worrying times."