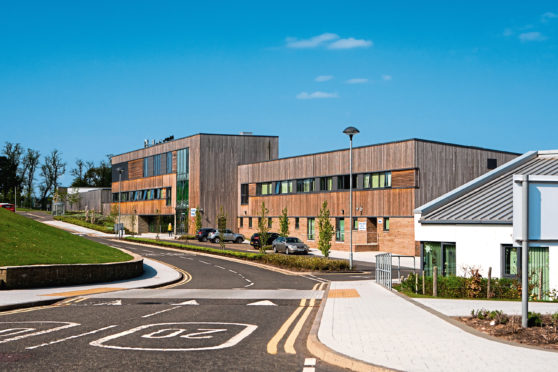 A campaigning mother has paid tribute to a sheriff for imposing a record fine on Tayside Health Board, which admitted criminal responsibility for three patient deaths.
Tracy Swan said the £120,000 fine imposed was vindication of her seven-year battle to get justice for her daughter Jodie McNab.
Jodie, 22, Rebecca Sangster, 31, and Jacqueline Proctor, 60, all died in the same ward at Murray Royal Hospital in Perth.
NHS Tayside was fined £120,000 after admitting criminal failings and was told the sum would have been even greater if it had not been in the midst of tackling the Covid-19 crisis.
Sheriff Lindsay Foulis told the health board he was cutting the fine "very, very considerably" because it would need funds to tackle the pandemic.
Even reduced from £180,000 because of an early guilty plea, it is understood to be the highest ever imposed on a health board in a criminal case in Scotland.
Jodie, Rebecca and Jacqueline were all able to take their own lives on the Moredun ward within three years of the PFI-funded showpiece hospital opening.
Tracy said: "It is the first criminal conviction they have had. It is a huge step. The health board committed a crime and we just wanted people to know that.
"Obviously it was very difficult in the current climate, but we felt that the sheriff was on our side.
"We were surprised by how much he hammered them, and he made it clear it would have been even more but for what is going on."
NHS Tayside admitted a catalogue of failings over several years, which led to the deaths at the hospital between it opening in 2012 and 2015.
The board was described as "chaotic" and directly to blame for system failures which led to the suicides.
Sheriff Foulis said: "It shouldn't have required three deaths before that very significant review was undertaken.
"It was plagued with chronic staff shortages, up to 50% were off regularly and reliance was placed on agency staff which had an adverse effect on continuity of care.
"The conclusion I'm inevitably drawn to is that culpability on the accused body is high.
Peter Gray QC, for NHS Tayside, admitted the ward had been badly managed, massively understaffed and had fatally let down the patients it was supposed to be looking after.
Ann Sangster – Rebecca's mother – said: "I am disappointed because I thought the fine would be double that. At least this has exposed them for what they failed to do."
NHS Tayside admitted "failing to manage and control the risk of severe injury and death associated with ligature points" between April 1 2012 and November 4 2015.