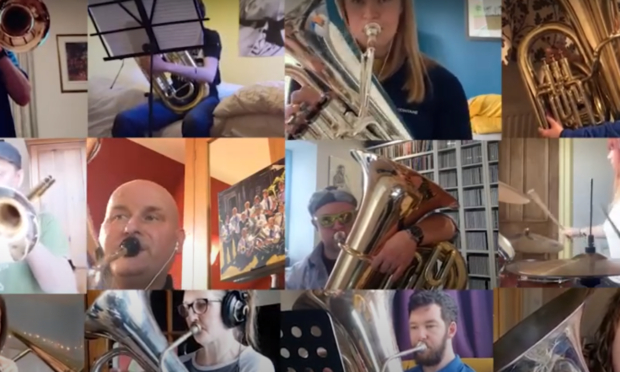 Almost 30 brass band members from across Perthshire have teamed up to produce a musical masterpiece from the safety of their own homes.
Perthshire Brass, who are usually based at the former Darnhall Bowling Club in Perth's Craigie area, this week launched their AtHome Funk video, featuring their own band members playing the Mark Ronson and Bruno Mars favourite Uptown Funk.
Organiser Ewan Walker came up with the idea after watching daughter and fellow band member Kate produce a similar video with Southbank Sinfonia, the London-based orchestra she works with.
Trombonist Ewan and his colleagues had been trying to find a way to keep the band's spirits up after being forced to cancel their summer tour to Perth's sister city Aschaffenburg in Bavaria, Germany.
Ewan says the tour will be rescheduled, but until then, the viral video has also helped to keep skills sharp.
Nearly half of the band's member's quickly showed an interest in producing the video, and sent their parts within a week.
Ewen said: "A couple of weeks ago we started looking at how we could keep rehearsing and getting together.
"My daughter works for an orchestra in London and saw their attempt. That was the lightbulb moment – we knew everyone would jump on it."
Already a firm favourite in the band, 2014 smash hit Uptown Funk is proving to be a number one once again.
"Uptown Funk is one of the standards for us when we're out busking," he added. "It's really popular and an obvious choice since it's upbeat too.
"In week one, we went to the band and asked for their submissions and in week two, we edited it all together. It's had more than 1,000 hits on Youtube and we're dead chuffed."
Perth and Kinross Council employee Ewan, 53, has been involved for 11 years, after bringing trumpet player Kate along first.