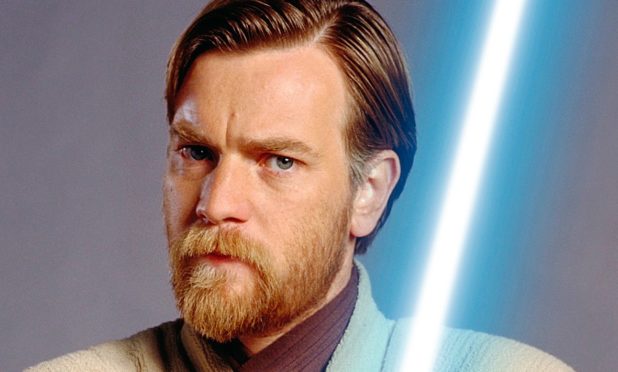 Star Wars actors Ewan McGregor and Denis Lawson have united to help Perthshire school leavers celebrate their last day of term.
Fresh from launching a sci-fi-theme campaign to boost crisis-hit CHAS, McGregor sent a surprise video message to locked down students at Crieff High School.
In the clip, he spoke of his sadness that the students had to end their school days in self-isolation.
He was joined by his uncle, Local Hero actor Denis Lawson who starred as rebel Wedge Antilles in the original Star Wars trilogy.
Lawson, a former Crieff Primary pupil, tells students: "I'm sorry you can't have a party right now, but I know when all this is over you will have a party."
Lawson, who scored a recent viral hit with his recording reading of the Burns-inspired poem Tae A Virus, added: "I want to wish you all the best in your future careers. Good luck to you all."
McGregor, who went to Morrison's Academy in Crieff, said: "I just want to wish everyone at Crieff High School who is leaving this year the best of luck and good wishes going forward.
"I'm sorry it's been such an odd end to your schooling. To be doing lessons on computer screens from your bedrooms or your houses, wherever you are, and not to be altogether, finishing together, is just a shame for all of you."
The Trainspotting star added: "I'm sorry that you have missed out on all that."
McGregor, 49, also gives a shout out to someone at the school called Ross.
The video was put together with the help of the school's head of music Dave Griffiths, who including messages from pupils and staff.
Sharing the clip on social media, the school posted: "Crieff High Leavers 2020 – today would have been your last day with us and we wanted to mark it in a unique way in these unique times.
"Together, as one, go out and meet the world."
On Saturday, McGregor launched a new appeal for CHAS, also known as Children's Hospices Across Scotland.
He is urging the public to show its support for the charity, which runs Rachel House in Kinross, by sharing photos of their 'geeky' T-Shirts and donating cash via a text message or GoFundMe page.