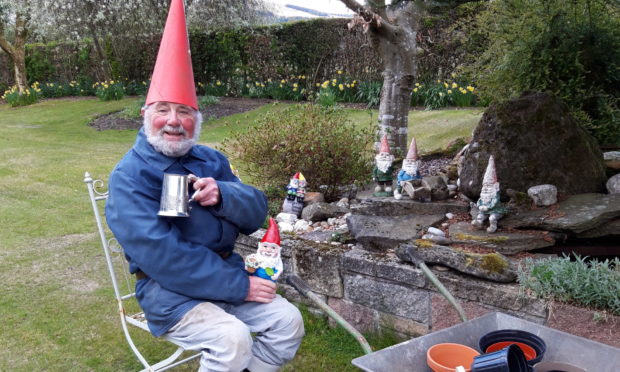 After weeks of lockdown, most of us are longing for a change of scenery.
But Kinross-shire grandfather Alan Harper is proving there's gnome place like home.
The 76-year-old has taken on an unusual charity challenge to raise money for a child bereavement group close to his family's heart.
He has agreed to walk at least 40 miles around his garden, dressed as a gnome.
Mr Harper, an elder at Fossoway St Serf's and Deveronside Church, has COPD (Chronic Obstructive Pulmonary Disease) and is on the shielded list. It means he has been confined to his house and garden in Crook of Devon since lockdown began.
"I am not allowed to go for a walk," he said. "So I am walking around my garden 20 times each day for at least 20 days.
"That's two miles – or 113,700 steps – over 20 days and I am now into my eighth day."
So far Mr Harper, who is affectionately known as Gnomey, has made more than £1,500 for Richmond's Hope, a charity that supports thousands of children and young people who have suffered the loss of a parent.
"It's very humbling," he said. "People said they would double their donation if I dress up as a gnome and they see a picture of me."
Mr Harper said his Church of Scotland minister son, Rev Dan Harper, and his friends gave him the nickname The Gnome many years ago, on account of how he looked one day while cleaning out the garden pond.
His granddaughter Zoe now calls him Gnomey.
The retired accountant said: "A family friend died recently and left behind his wife and six-year-old daughter, who is supported by Richmond's House, so we just feel as a family that it is a charity that is very close to home."
He added: "A lot of people are going to need counselling because they won't have been able to been able to be with their loved ones when they died, and they won't be able to attend funerals.
"It is going to be a very difficult time so that is why I want to do what I can to support the fantastic people at Richmond's Hope who help and support many others."