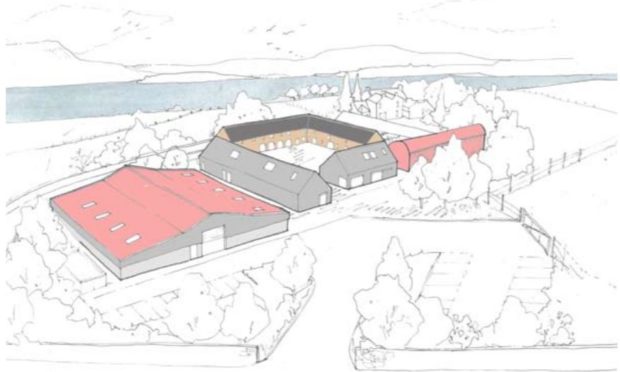 Plans to convert abandoned farm buildings on the banks of Loch Leven into a business hub have been lodged with Perth and Kinross Council.
Edinburgh-based studio LBA wants to create the scheme at the partially dilapidated Orwell Farm between Kinross and Wester Balgedie.
The site includes a derelict L-shaped stone steading which once served as a dairy and two large agricultural sheds which are in poor and deteriorating condition and have been recently used for storage.
LBA plans to turn the disused structures into high quality business premises that
include stand-alone offices, co-working spaces, workshops and studios.
One barn would be demolished but the other and the former dairy are to be retained and repurposed.
The dairy would be converted into two offices, including one to be used by the outfit's in-house team of architects.
The remaining shed will be transformed into flexible co-working and independent
office suites.
No objections have been lodged on the local authority's planning website, and the project has been welcomed on social media. The Kinross population has been growing, due to several large-scale housing developments, and the employment opportunity has been heralded.
Orwell Farm is understood to have been purchased 12 months ago by LBA managing director Lynsay Manson and her husband after the pair failed to find a suitable premises in Edinburgh.
In their planning statement, an LBA spokesperson said: "A design-led approach is proposed to create high quality and highly desirable spaces for businesses to thrive and grow.
"Community spirit will be at the heart of the development encouraging collaboration and cross pollination of ideas and skills.
"Creating a community focused around sustainability, wellbeing and creativity with business at the heart will make it a unique offering compared to other office facilities in the local area."