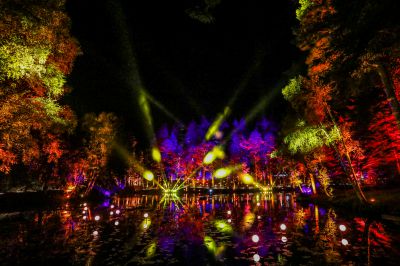 This year's Enchanted Forest has been cancelled.
The Enchanted Forest Community Trust has announced its decision to cancel the event, which was due to take place in October and generates an estimated £7.6 million for the local economy.
More than 16,000 tickets had been sold already and organisers confirmed all will be refunded over the next two weeks.
The Trustees of the charity issued a statement, saying: "It is with heavy hearts and great sadness that, due to the ongoing effect of Covid-19, The Enchanted Forest Community Trust has reached the decision to cancel this year's event.
"Alongside the whole world, we have been watching the situation closely as it develops and, while we had quietly hoped the ban on mass gatherings may ease off in the Autumn, it is clear to us now that the ongoing requirements for physical distancing may remain in place until the end of the year."
They added: "We want to thank every single one of you for your support in making The Enchanted Forest the magical event that it is.
"Our beautiful home of Faskally Wood will stand proud and tall throughout this, and we will miss all of you coming to visit us this year."
While being in the interest of public health, the decision is set to bring "sadness" to the area, according to local politicians.
SNP MSP for Perthshire North, John Swinney said: "Whilst this is a sensible decision, it is one that will bring significant sadness to Perthshire residents.
"The Enchanted Forest has proven to be a huge hit, and has established itself as one of the premiere events in Perthshire's annual calendar.
"It has been responsible for introducing the beauty of Highland Perthshire to so many tourists from across the country, and has made a significant impact on our local economy."
SNP MP for Perth and North Perthshire, Pete Wishart added: "Given the need to continue to follow social distancing for the foreseeable future, it is completely understandable as to why organisers had to make the difficult decision to cancel this year's event."
This was echoed by Councillor Mike Williamson of the Highland ward, who said: "Whilst it is disappointing that the Enchanted Forest cannot go ahead this year, it is totally logical as to why it had to be cancelled for 2020.
"I wish all the team the very best and I can't wait to welcome them back in 2021."
Tickets for the 2021 Enchanted Forest – its 20th year – are not yet available, but organisers say they will use this time to make its anniversary "full of magic and enchantment".