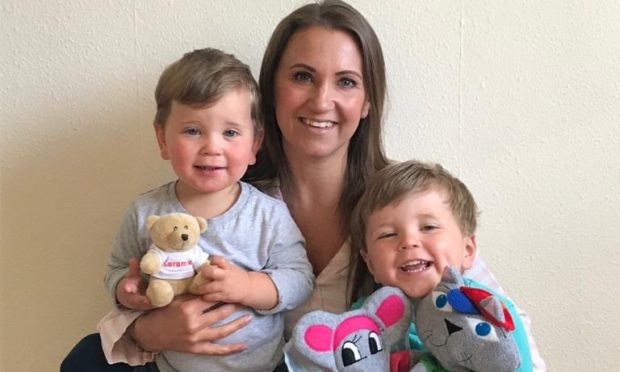 A Perth mother has launched a new scheme to introduce young lockdown learners to the Spanish language by using puppets.
Mum-of-two Sarah Bloice had planned to launch her new business 'Spanish For Kids in Perthshire' last month, with language lessons for children under 12 taking place in face-to-face classes.
Sarah, who lived in Spain for seven years and graduated with a degree in modern languages and linguistics in 2016, said the course is not a traditional teaching style but focuses on fun and interactivity.
She said: "I'm passionate about Spain, its culture and language and I love passing that on through my lessons.
"I was keen for my sons to learn Spanish from a young age and speaking to other mums I realised there was an interest here in Perth so started exploring concepts that could potentially fill that gap."
In a bid to reignite the project and keep her new venture afloat, Sarah has taken the classes online, which she believes could also support home schooling for thousands of families across the region.
The classes follow 'La Jolie Ronde' programme which has run for more than 30 years.
She said: "The course has been developed by teachers and is designed to specific ages and differing levels of ability.
"For the younger kids it's all about learning through singing, rhymes and stories in Spanish featuring puppets that many of the children love.
"Ages five to 12 years learn through real-life situations that suit their interests and feature stories, action chants, games and songs so children learn the language just like Spanish children do.
"I was just getting the new venture off the ground when the coronavirus struck but I hope the online classes can help me through this tricky period whilst providing education and entertainment in Spanish for many children currently learning from home.
"The feedback I've received so far is great with parents and children finding the classes a bit of light relief during lockdown, even my boys have been helping out with the puppets during classes and are picking up on the lingo. It's great fun."
Sarah is providing free taster sessions so parents and children can get a feel of the classes prior to joining. Classes are available for different ages including 0-3 years, Primary 1, Primary 2-3 and Primary 6-7.
Full details are available on the project's Facebook page.