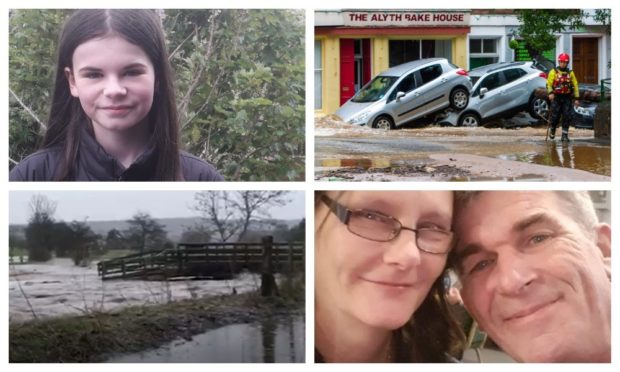 Five years on from Alyth's biggest flood in living memory, its impact lives on.
That time of cars piling up on the town's busiest street, of residents having to flee their homes for months, of businesses being forced to close for many weeks, of four shattered footbridges, of widespread power cuts, of the fear and panic brought on so suddenly and so unexpectedly feels, for some, like yesterday.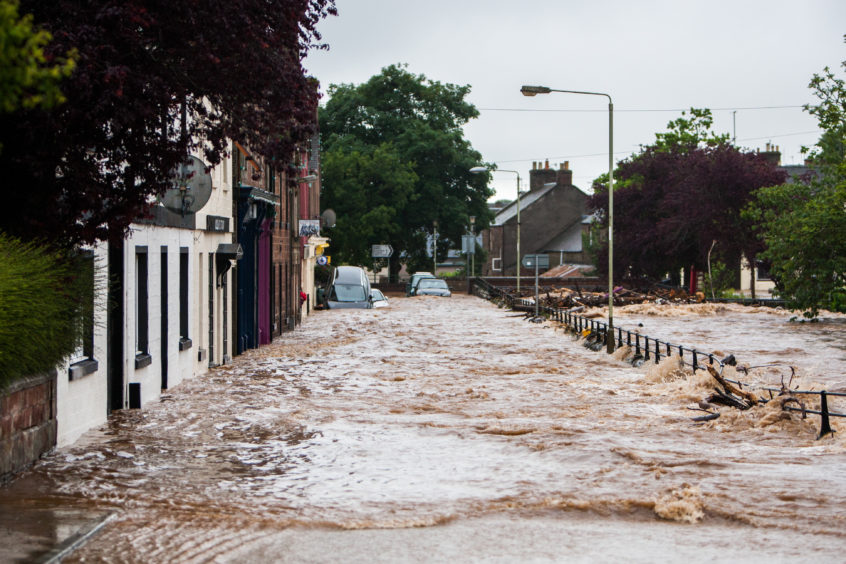 Friday, July 17 2015 has made people in Alyth more vigilant. The burn, so valued for prettifying, calming and connecting the town with nature along its route to the River Isla less than two miles away, is now also seen as an entity that needs to be respected, observed and, if necessary, mitigated against.
For the vast majority of the time the burn is a weak artery that nourishes and pleases, but what happened five years ago has amplified the fear it may bulge and, again, puncture.
In the past year that threat has felt more looming. On July 31 2019 the water was a few inches from reaching the surface and memories, excuse the pun, came flooding back. Witness Callum Smith told The Courier: "People were in tears. The noise of the rain scared the whole town because it brought back memories from four years ago."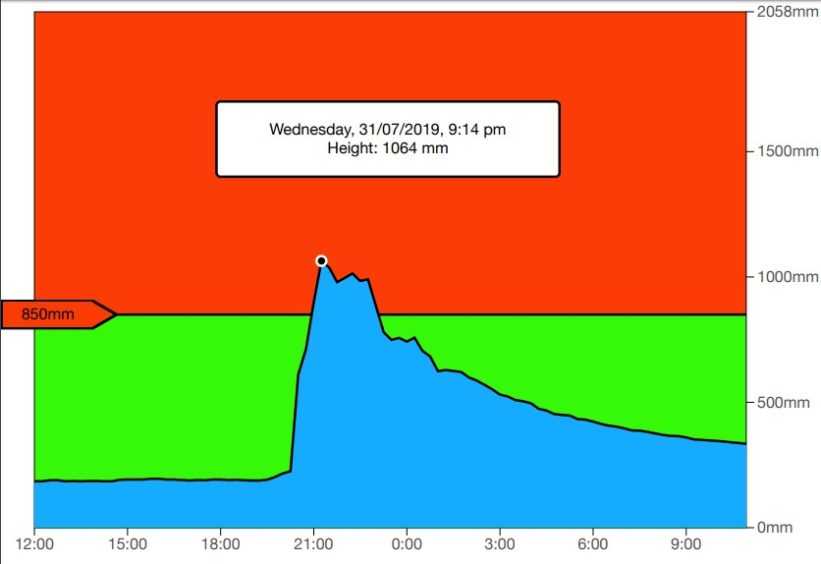 Those July inches were replaced by mere centimetres on February 15 this year as Storm Dennis unleashed its fury on the local area. Some water from the burn actually came onto the road and lapped against at least two of the four footbridges that had been rebuilt after the flood five years ago.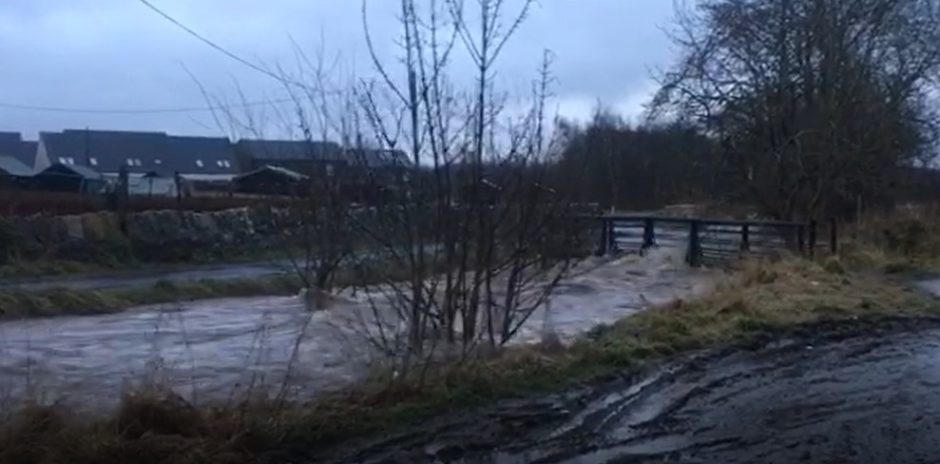 Perth and Kinross Council acted swiftly, deploying sand bags and installing makeshift flood barriers along the burn. Thankfully, the storm surge left only deep puddles along the edge of the bank but, again, it reminded residents that Alyth's resistance to flooding appears to be fragile.
There are hopes that this might be changing. A new organisation, Alyth Community Support Group, is working with the Scottish Flood Forum (SFF) to develop a Community Flood Plan to build resilience. The SFF is also setting up a River Track flood alerting project for Alyth to provide valuable warning time should the river again show signs of bursting its banks. This feature explores both schemes in more depth.
But first, let's return to the impact the 2015 flood had on Alyth. The common thread that links all the interviews conducted for this article is that this incident brought out the very best in the community.
While cold, dirty water engulfed people's homes and assaulted their livelihoods the warmth and cleanliness within people's hearts shone bright. Residents offered rescue, food, accommodation and support to those they had previously called strangers.
Jinty Young believes her life may have been saved by a young man who refused to leave her side while she was trapped in her car for 30 minutes; Kate McLeish was given refuge in the church manse after being rescued from her home in a canoe; Isobel Fotheringham was donated a place to live for three months after her daughter made an appeal on Facebook; food and clothes were offered in the town hall.
So apparent was the care and generosity in the town that one resident, from outside the UK, decided to uproot more than 3,500 miles to Alyth as a result.
American Russell Taylor, 64, who has served as a chief executive at various companies over the past 25 years, was on the second day of a two-month holiday in Scotland when the flooding happened.
Russell, then a resident of Charlottesville, Virginia, had been staying in Leighton Square with her husband Steve, an artist, when she witnessed dramatic scenes of carnage on Commercial Street.
She said: "We had decided to take an extended holiday for two months and the morning after the day we arrived Steve went outside and came back, ashen-faced, saying 'it's bad, it's bad'. I was in the kitchen trying to get the kettle working with no electricity.
"We were soon to see how this town pulled together at its lowest moment and that had a lot to do with us wanting to stay here for good.
"We were thinking about which part of Scotland to move to, because I have family connections here and have done a lot of work here. We were thinking about which part of Scotland we could really feel at home and where we could make a contribution and the way we saw this town band together and help one another convinced us that Alyth was a pretty special place and we wanted to be part of it.
"The flood left scar tissue but it also left a determination that when the next time something happens we are going to be ready."
Russell and Steve completed the move in early 2018 and she is currently the secretary of the Alyth Development Trust, which has received money from the Tullymurdoch Windfarm Fund.
"In the past 18 months we have given grants to groups including Alyth Creates and Alyth in Bloom," Russell said.
"A lot can be achieved if you talk to and help each other."
'I was stranded in my car for 30 minutes'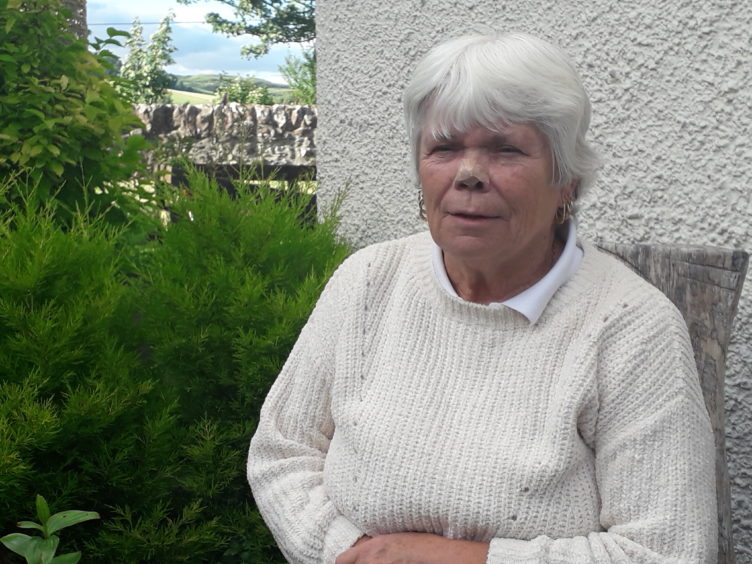 Jinty Young feels she is lucky to be alive after becoming stranded inside a car as flood waters engulfed her in Alyth town centre.
Jinty, 76, had been working on a farm in the Jordanstone area and was driving back to her home in Springbank on the morning of July 17 2015 when she was caught up in a torrent of water that piled out of Alyth Burn and onto the road.
"I went towards the bridge and the water was only low, but when I drove over it and onto Commercial Street I saw a tsunami arrive," she said.
Jinty was somehow able to wedge her vehicle behind two cars that shielded her from water flows to the front. But she was vulnerable at the rear so was unable to leave for fear of being pushed out into the raging current.
She said: "My neighbour phoned a friend who lived above one of the shops nearby. He came down and told me to roll down my window. He said 'I am not going to leave you'. I can't tell you how much that meant to me."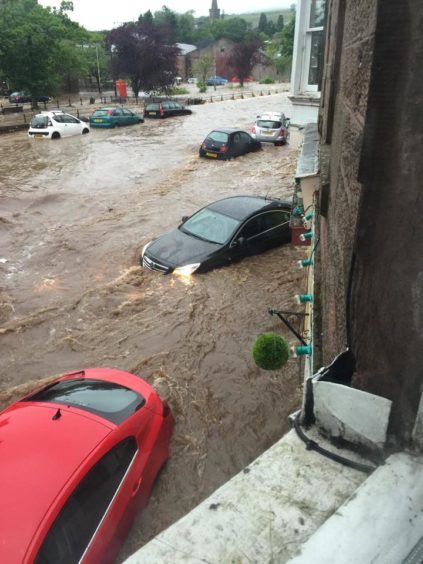 After more than 30 minutes in the car Jinty was rescued when local farmer John Ferguson parked his tractor to the rear and two firemen, who had been in the front bucket, helped her out.
The rescue operation was captured in a photo published in The Courier the following day.
Jinty said: "As soon as John took the tractor away the car went flying down into the park. It was the most scared I have ever been, yet I didn't know it was going to happen."
As a gesture of thanks, she gave money to the man who stayed with her for 30 minutes while in the car and gifted a bottle of whisky to John Ferguson.
"It feels like yesterday but the community in Alyth was fantastic that day," she recalled.
'I wouldn't wish it on my worst enemy'
Isobel Fotheringham was born in Alyth 78 years ago, moving to her current home in Springbank in her 20s.
Located east of the town, next to the burn as it heads down towards the former Glenisla Golf Course before feeding into the River Isla half-a-mile north of Ruthven, Springbank is a cul de sac that can bear the brunt of any increase in the level of the river.
The road was hit by flooding in 1993 and 1998 but, for Isobel, nothing compares to the  events of Friday July 17 2015.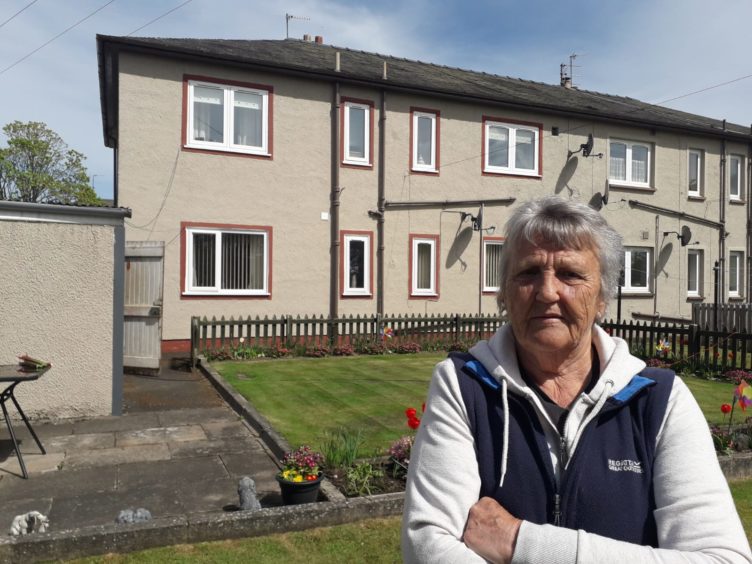 The severity of the flood left her stranded in her home with husband Ian, who suffered with Parkinson's and dementia.
For more than six hours, between 8am and 2.30pm, the pair had to look outside, helpless, as the raging waters entered their home via a door on the side of the building. The water was so high that no vehicle could access the road.
"I would not wish it on a worst enemy and would not want to go through it again," said Isobel.
"We couldn't get out because the flood water was through the door. The water was right up to the front windows.
"The water was right into the garden and stuff was washed away. It was terrible."
As the flood receded into the afternoon, they were rescued by emergency services and volunteers.
After a short stay at Five Roads Caravan Park, Isobel and Ian found temporary accommodation in Rattray, where they stayed for three months.
Isobel recalled: "My daughter went on Facebook and asked if anyone had a home available for my mum and someone said they had a place in Rattray for sale that was empty, so we stayed there."
She says that Alyth's strong community spirit shone through on a dark day that will never be repeated.
"It was caused by the logs at the den that came into the burn and the bridge couldn't hold it back," Isobel said.
"They used to drain the burn and get men in there to clean it out but they haven't done that for years.
"It hasn't been like that in all the days I have been here. I never want to go through that again."
'We had to go out of the window in a canoe'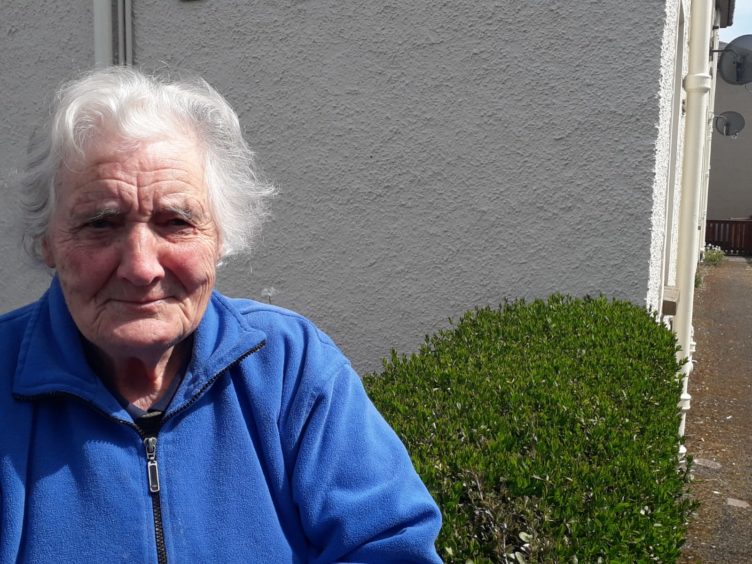 Five years on from the trauma of being evacuated from her home, Kate McLeish can see the funny side.
Kate, 84, was in Springbank in July 2015 when an almighty flow of water left her with no way of getting out.
"I had to go out of the window in a canoe – it's quite funny," said Kate, who has lived in Alyth for more than 50 years.
"The firemen had to lift me over the top of the fence to a bit at the bottom. After that I had to find somewhere to live."
Help for Alyth residents caught up in the deluge was in plentiful supply in the second half of summer 2015, as locals showed true community spirit to help those whose lives had been turned upside down virtually overnight.
Kate was initially accommodated by Alyth's church minister, Revd Michael Erskine, in The Manse in Cambridge Street, before spending the next three months at an upstairs flat in Springbank.  In the first few days after the flood there was food and clothes available at the town hall in Albert Street.
One of Kate's neighbours, Wanda Mollison, 76, says she "lost everything" in the flood.
"We have never seen anything like that before," said Wanda, who has lived in Springbank for 55 years. "Sometimes the water comes up but this time it was horrendous."
In the aftermath of the flood she stayed for a week at Five Roads Caravan Park in New Alyth, then moved in with her son for a week. "My son's friend had a place in David Street and he was working away so I was able to live there before returning home in February next year," Wanda recalled.
Flood diary
Thursday, July 16 2015
10.39am. The Met Office issued a yellow warning for rain in Central, Tayside and Fife. The warning, valid for the following day, suggested most areas would see about 3-6 hours of steady rain, with the risk of some heavier, thundery bursts.
12.09pm. Sepa issued flood alerts both Tayside and Dundee & Angus drawing attention to the possibility of flooding to low lying areas from rivers and small water courses.
During the night of Thursday and into Friday a slow moving band of torrential rain moved north eastwards across Perth and Kinross, resulting in a number of flooding incidents in Alyth, Bankfoot, Perth, Birnam and Blairgowrie. The torrential rain had the greatest impact in Alyth.
Friday, July 17 2015
7.20am. Increased water level in Alyth Burn.
7.45am. The water level rose suddenly and rapidly, bringing timber, woody debris and other debris (including a skip and telegraph poles) down the burn. The debris lodged on the Old Pack Bridge and the footbridges along Commercial Street, James Street, David Street and Cairnleith Place.
8.00am. The burn started to overtop onto Pitnacree Street and Commercial Street, causing extensive flooding to the centre of Alyth.
8.11am. Numerous reports of flooding to properties were received from Springbank Road, Market Square, Pitnacree Street, David Street Commercial Street, Mill Street, Mart Street, Burnside Court, High Street, James Street, Isla Court, Isla Road, Toutie Street and Burnside Court.
8.30am. The central pier of Cairnleith footbridge in the town centre collapsed, resulting in the ultimate failure and collapse of the bridge.
9.30am. Local eyewitness reports suggested the water level had peaked.
10.45am. Significant depth of water about 600mm deep was still being reported along Springbank Road.
2pm. Flood water returned fully in the bank.
The damage
At least 59 properties and businesses were flooded.
About 700 properties were left without power due to damage to two electrical substations.
Four footbridges were washed away by the flood waters. Three of the footbridges were located between the Old Pack Bridge and the Market Square.
The weather
The rainfall recorded within the surrounding area by Sepa (34-59mm at 17 various gauges) confirms that more than half the average rainfall for the entire
month of July fell within a six-hour period. The average for the whole month is 70mm.
Sepa concluded that the flow in the Alyth Burn on July 17 2015 was "possibly of the magnitude of the 1 in 200 year flood event. Such a flood is significant in terms of water flow and rarity"
The cause
The joint agency report noted woody debris that may have locally influenced flow patterns because of the temporary blockages of bridge and weir structures in the town and because of temporary blockages upstream by washed out riparian woodland.
"However," it added, "significant flooding in Alyth would have occurred in this occasion whether or not woody debris was present due to the limited channel capacity through the town adjacent to Commercial Street.
"Analysis of all available information and consideration of flooding processes
observed during the event, suggests that the flood was a significant and rare event possibly up to the order of a 0.5% AEP (200-year) event."
Flood history
Perth and Kinross Council holds information regarding flooding in Alyth on the following dates:
November 1876
August 1884
August 1924
January/February 1928
August 1956
January 17 1993: A study in September 1994 states that the Alyth Burn flooded Commercial Street via gaps in the wall where the footbridges are located. The flood water flowed down Springbank Road where is was met by additional
out of bank flow just upstream of Cairnleith Place footbridge. While some properties were evacuated, there are no accounts of any properties flooding. This flood event occurred during the hours of darkness, peaking around 4am due to a combination of rapid snowmelt and a long duration rainfall event.
September 1 1998: A flood study report says this event caused significant flooding to Commercial Street, Pitnacree Street, Market Square, Bridge Street, Mill Street and Springbank Road. The Johnshill Culvert was also overloaded leading to further flood water entering Market Square and adjoining roads. There had been intense heavy rainfall of a short duration resulting in a rapid rise and rapid fall in flood water with the event being over in just a few hours. It is thought that five residential and six non-residential properties could have been damaged (had some properties not put sandbags in front of their house).
In September 2015 the council, Sepa and Scottish Natural Heritage published a joint agency report into the July 2015 flood. It stated that residents indicated a number of times over the years when water levels in the burn have
been high. These include October 12 2012 and November 14 2014.
July 31 2019. The Courier reported that "people were in tears" as the burn appeared to "fill up" within seconds during a bout of heavy rainfall. It was close to bursting its banks.
February 15 2020. Perth and Kinross Council deployed sandbags and makeshift flood barriers along Alyth burn as Storm Dennis threatened the town. Water reached the road at Springbank and lopped against the bridges throughout the area.
'The burn needs to be completely dredged'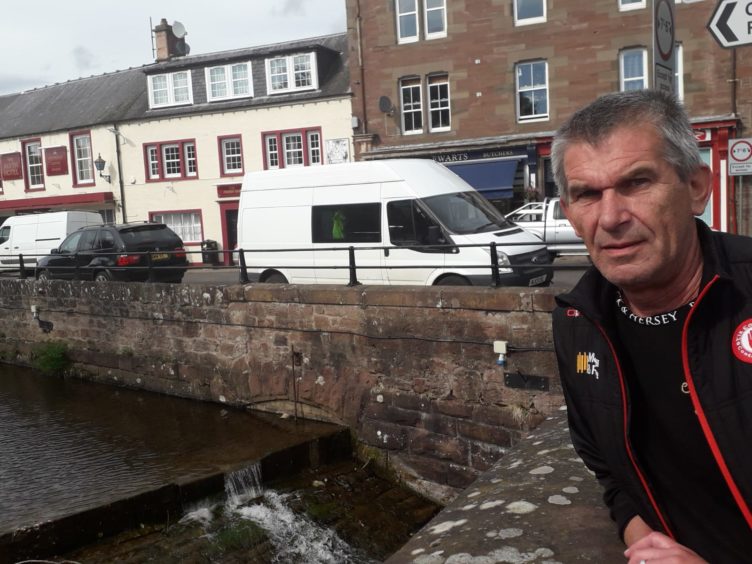 For Derek McKenzie and his wife Dot, the flood of July 2015 sparked a new creation that remains a big part of their lives.
On that shocking day the couple set up Facebook page Alyth Community Support Group to provide residents, some of whom had suddenly become homeless, with the help and resources they required.
"I set up a Facebook page on the day it happened to help people find accommodation and kept it going," said Derek, 53, who moved to the town 46 years ago.
Not only is the page still running, with more than 1,000 followers informed of flooding news as well as other news and advice relevant to the people of Alyth, it has spawned an constitutionally-recognised organisation that is part-funded by the Scottish Government's Supporting Communities Fund via the National Lottery Community Fund.
ACSG, which is chaired by Dot, continues to help residents during the coronavirus pandemic and organises events, such as a recent clean-up of the burn.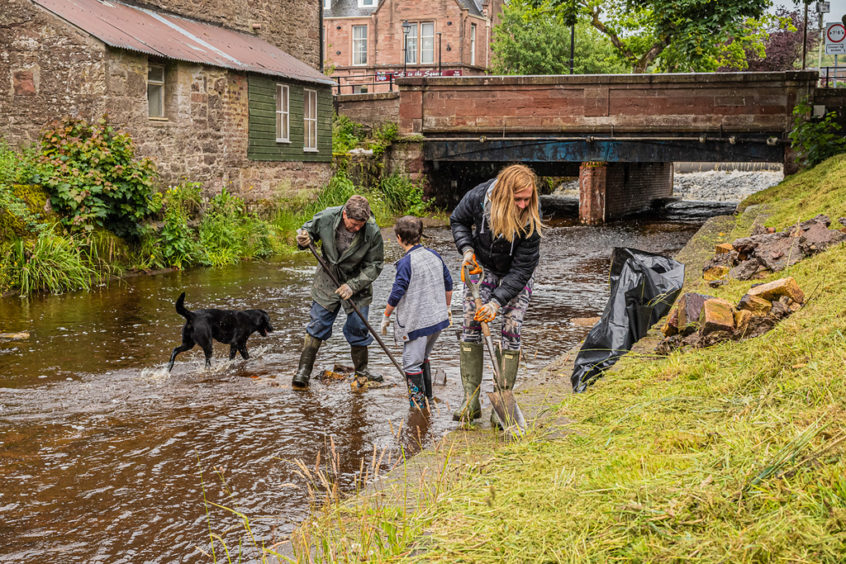 ACSG is working with Alyth Development Trust to create a resilience plan for the town in relation to areas such flooding, food and mental health.
Though Derek and Dot's then home at Victoria Street was not affected five years ago, the flooding forced his step-daughter Louise Burns out of her home in Springbank.
"The whole place was flooded," Derek recalled. Louise stayed briefly at a property at North Balloch Farm, a mile-and-a-half from the town, before returning home.
"When I was a kid growing up in Alyth they used to dredge the burn but it is never cleared out these days.
"They have spent a lot of money improving the town square – and it looks nice – but something has to be done about the flooding. Maybe they could build a flood wall or raise it slightly. It needs to be completely dredged – it wasn't even after what happened five years ago.
"People, especially councillors, still forget about it but this is people's lives and property at stake."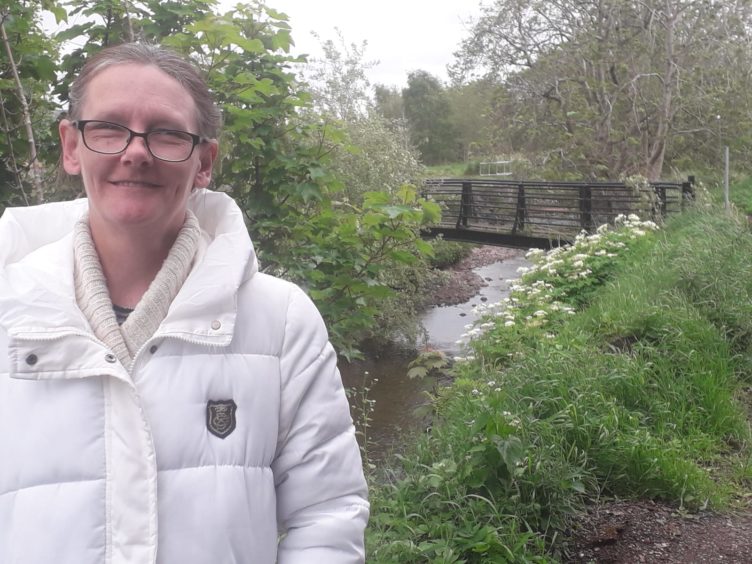 Dot, 52, said: "When money was spent on the square some should have been put towards raising the wall next to the burn.
"What's the point of having a pretty square if it gets flooded?"
'The burn was half-way up the garden'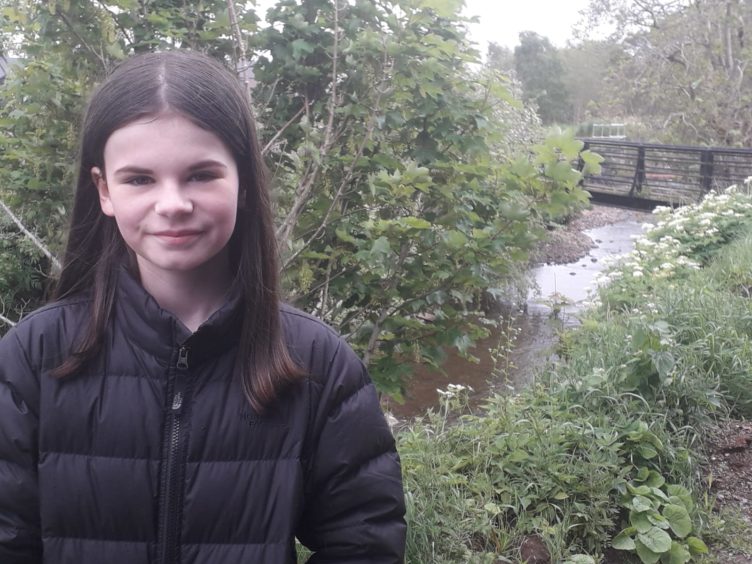 "I woke up as if it was a normal summer holiday morning," recalled Hollie Burns, who was seven years old on July 17 2015.
But this was to be anything but a normal day for Hollie, as she soon saw for herself something very unusual in Anderson Place.
"Next I remember being told ' go look out the window' and, right there, was the burn half-way up the garden.
"Later that day my granddad had to bring a flask of warm water to our house because, at that point, I had a baby sister who needed a bottle.
"After that me, my mum and Granny took a walk up the square to see what it looked like. I remember on my way up there seeing the town hall doors open. It was there for anyone who had been flooded out of their homes.
"Loads of people from the community donated clothes, blankets and other vital products to those staying in the hall.
"Once we got to the square I remember fire engines practically everywhere, making sure people kept their distance from the burn. By the time we got there it had calmed down.
"A lot of shops had been completely ruined, included the Cafe in the Square, Sims hardware shop and the bakery."
Hollie, 12, now a pupil at Blairgowrie High School, acknowledges that measures have been taken to prevent future flooding in Alyth.
She added: "A good amount of things have been put into place, including sturdier and raised bridges.
"Also, when there was a major flood scare earlier this year the council put sandbags by the square.
"But residents near the burn could be supplied with a good supply of sandbags for free, and perhaps flood walls could be built in the most affected areas of our community."
'I couldn't believe what my eyes were seeing'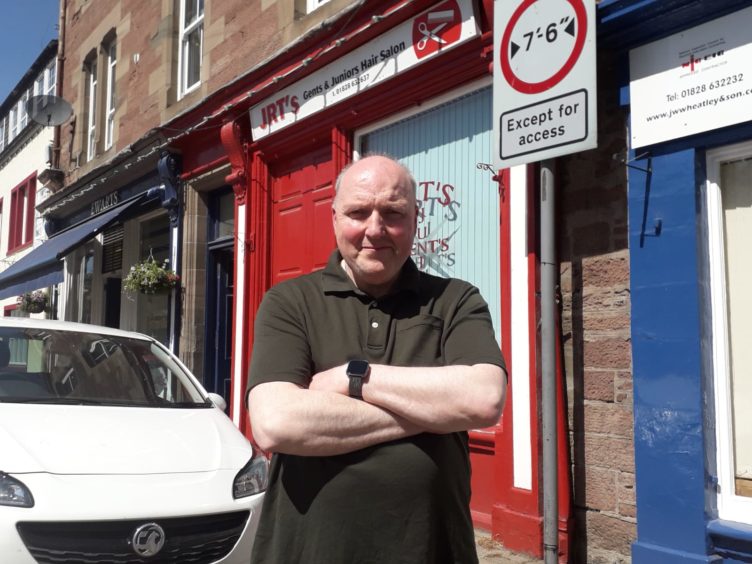 When Alyth was struck by a flood in July 2015 Paul Duncan had three valuable items at stake – his car, his home and the business he rented out.
Sadly Paul's pride and joy, a 2004 Land Rover Freelander, was parked on the town square at the time and became permanently wrecked because a security feature allowed all windows to open once the water from the burn posed a threat. The liquid gushed in and the vehicle was a write-off.
The 54-year-old's home, in Leighton Square, led a charmed life however. Despite its location less than 100 yards from the burn the water only made it as far as the patio and did not penetrate the home.
The same could not be said for the JRT's hair salon on Commercial Street, for which he was the landlord. "It was wrecked," said Paul. "The water got in the shop and there was mud all over the floor. There must have been £125,000 damage. It was shut for four months."
Paul has lived in Alyth for 30 years and was shocked by the scene that greeted him as he arrived in Market Square having been out for a walk.
He said: "I came around the corner and couldn't believe what my eyes were seeing. There was water everywhere, from this street to that street. It was a raging river.
"I have seen that burn high but never anything like that. I couldn't get anywhere near my car.
"It was scary and pretty worrying. There were cars and wheelie bins flying past. The bridges were choc-a-block with wood and everything coming down the burn.
"It was surreal – like something out of a movie. It took a long time to take in what happened that day."
Paul said that other businesses were affected by the flood but paid tribute to how they, and the community, came together to help each other recover. This strong community spirit has continued to this day, he added.
"There's not been enough maintenance on the burn in some places. When you go up Commercial Street you can see where the silt and mud stops water going in the drain. In February the water flooded the road, causing a lot of alarm and distress.
"There needs to be a coordinated response. We were told after the 2015 flood in a meeting at the town hall that there would be something put in place but nothing seems to have happened.
"If they don't do something it is going to be an ongoing problem causing alarm and distress.
"I am thinking of installing flood prevention measures at my property which would cost a lot – around £500,000 – to do."
'We are trying to ensure it doesn't happen again'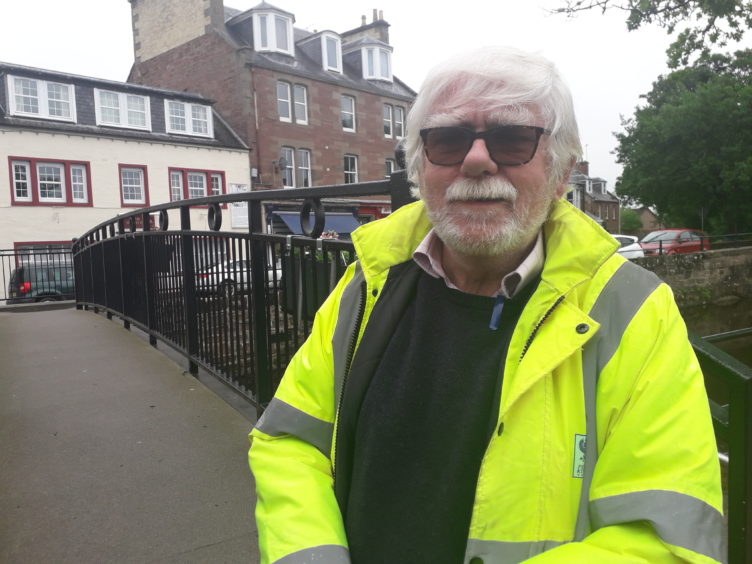 Sepa estimates that 70 properties in Alyth – 50 residential and 20 non-residential – are at risk of flooding, but providing a solution is less than simple.
Dennis Melloy, the Provost of Perth and Kinross, was brought up in Blairgowrie and now lives two miles from Alyth in the Aberbothrie area.
The former chairman of the Alyth Community Council has called for the wall behind the phone boxes on Market Square to be raised by about a foot to combat future flooding in the area.
Cllr Melloy said: "We are trying to get the flooding people to ensure it doesn't happen again.
"I tried to get the council to increase the height of the wall but they say it will be a huge and expensive job. Unfortunately Alyth is not the only place in Perth and Kinross with flooding issues. In Almondbank a flood defence scheme has been completed and in Comrie a project has been approved.
"We do need to give the residents some comfort though."
An email sent to Cllr Melloy in October 2019 by Andrew Strang, the council's structures and flooding manager, says that measures would have to cover a larger area than simply Alyth town centre.
Mr Strang wrote: "It is likely that flood defences would be required to extend from the Bamff Road Bridge down to the lower end of Springbank Road, making this a costly and disruptive exercise.
"Raising a short section of wall by about a foot would do very little to reduce the risk of flooding in Alyth. Such a low, localised wall would simply be overtopped, or outflanked, during higher water levels and the burn would just flow over or around it.
"This would also increase flood risk to adjacent properties. It would therefore be ineffective as a flood defence and would provide a false sense of security to the local community; flood water would overtop the wall and it would therefore be deemed to have failed."
The email added that Arup Scotland had already carried out a flood study into potential engineering works in Alyth. This looked at constructing flood walls, flood embankments, flood gates, raising footbridges, burn channel maintenance, reducing or removing weirs and lowering the bed of the burn. However, the study concluded that a flood scheme was not economically viable.
However, the council was due to undertake a natural flood management study for the Alyth Burn in the 2020-21 financial year. This study will consider the use of natural features, through techniques such as river/floodplain restoration and sediment management, to store and slow down the flow of water.
'Covid has increased people's appetite to address flooding problem'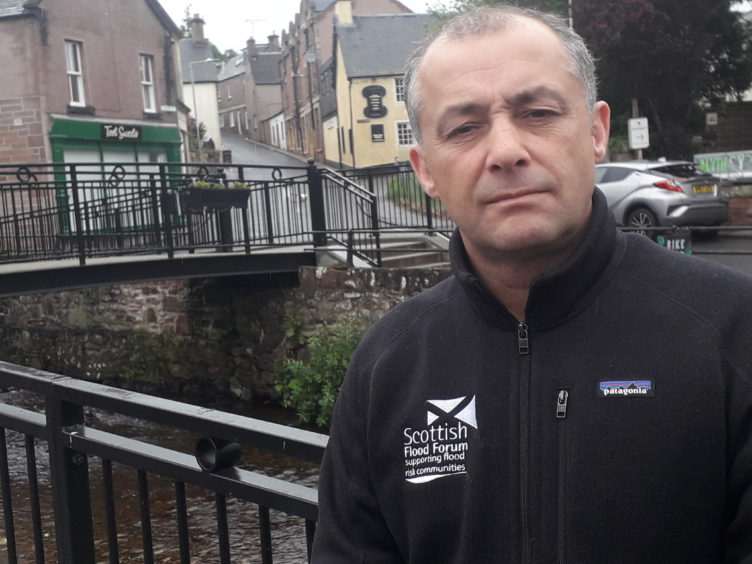 While orthodox flood defences for Alyth appear to be off the table, a new scheme is being launched that could provide some comfort to residents.
The town has been selected as a candidate site for the River Track community flood alerting project that is being funded by Scottish Flood Forum (SFF), an independent charity financially backed by the Scottish Government.
Already there is a flood sensor in the town centre and the project will involve the installation of a second sensor upstream, in the Den of Alyth area. These will be linked with another five alert display receivers placed with suitable householders or community locations.
Paul Laidlaw, community resilience manager for Scottish Flood Forum, said: "This project will enable us to track the flow of the river and give us warning of a flood 30 or 40 minutes before it happens.
"This will give the community and emergency services vital time to prepare for a flood."
Paul has worked closely with local people, including Alyth Community Support Group, and has noticed a shift in attitudes since the coronavirus pandemic.
He said: "Communities are starting to see Covid as just one the risks and are now looking at what other risks they face. In Alyth there is a palpable anxiety about flooding and there is a greater appetite to do something about it now than there was before the pandemic.
"The energy of the previous flood still exists and we want to use that to be better prepared for the next one if it comes."
The Scottish Flood Forum is backed by the Scottish Environment Protection Agency (Sepa), for whom a spokesperson said: "Sepa's flooding specialists contributed to a joint investigation with Perth & Kinross Council and Scottish Natural Heritage into the causes of the flooding in Alyth.
"Alyth went on to become a pilot in a project run by the Scottish Flood Forum in conjunction with RiverTrack – a self-help alerting tool for small communities at risk from flooding.
"Sepa supported the development of this tool by providing sponsorship to the Scottish Flood Forum as it seeks to develop the service for communities like Alyth and support future preparedness."