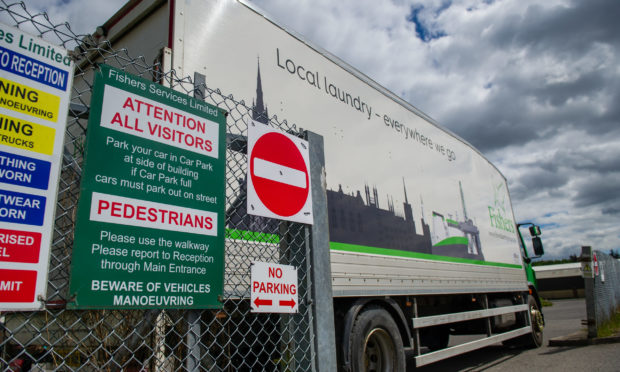 Leading Perthshire politicians have written to the Scottish Government, demanding support for a large Perth laundry business which collapsed last week.
Fishers Laundry announced on Wednesday that they have began consulting with staff in relation to redundancies.
The company was first established in Aberfeldy over a century ago, but now operates from Inveralmond industrial estate on the edge of Perth.
Fishers is reliant on the hospitality and tourism industries and management say they were cornered into making the painful decision when they lost a sizeable contract with Whitbread, the firm which runs Premier Inn and Hub hotels.
With headquarters in Cupar, Fife, the company have confirmed that Perth is their only confirmed closure.
Perthshire SNP politicians have written to the Scottish Government's Minister for Business, Fair Work and Skills, Jamie Hepburn MSP, asking for intervention from Holyrood.
MPs Pete Wishart and John Nicolson, along with MSPs John Swinney and Roseanna Cunningham and city centre councillor Andrew Parrot have signed the letter asking for PACE to be deployed.
Partnership Action for Continuing Employment (PACE) is a national framework designed to help local public sector agencies respond to potential and proposed redundancies as quickly and effectively as possible.
The scheme, run primarily by Skills Development Scotland, works with insolvency practioners to provide support where a business has gone into administration or liquidation and provides advice to people affected by redundancy.
Their letter read: "We are writing to you today in extremely unfortunate circumstances, regarding the future of the [Fisher's Laundry] plant.
"We are concerned that the company intend to file HR1 to give advance notice of a possible 84 redundancies, which will impact workers in all of our constituencies.
"Whilst this will go through a formal consultation, we believe that it is important in the current climate for the Scottish Government to be ready to deploy Partnership Action for Continuing Employment (PACE) support as soon as possible.
"We must ensure that everything possible is done to support the nearly 90 employees who may find themselves without employment in these most challenging of times.
"We have all seen the impressive work that PACE can deliver, and we are keen to see that support available to those who may lose employment with Fishers."
Business Minister Jamie Hepburn said: "I was very disappointed to hear of potential job losses at Fishers Laundry in Perth.
"The company is particularly focused on the hospitality sector which has been significantly affected by the lockdown, and I am acutely aware of how the loss of 84 jobs will impact locally.
"My thoughts are very much with those workers affected, their families and the local community as a whole at this anxious time.
"The Minister for Trade, Investment and Innovation Ivan McKee will speak to the company on behalf of the Scottish Government.
"The Scottish Government's initiative for responding to redundancy situations, Partnership Action for Continuing Employment (PACE) stands ready to offer its full support to affected workers at the site, and have already been in touch with Fishers to offer support to the workforce.
"PACE has a strong track record in helping to minimise the time that those affected by redundancy are out of work, which I hope is of some reassurance to the Fishers workforce in Perth."