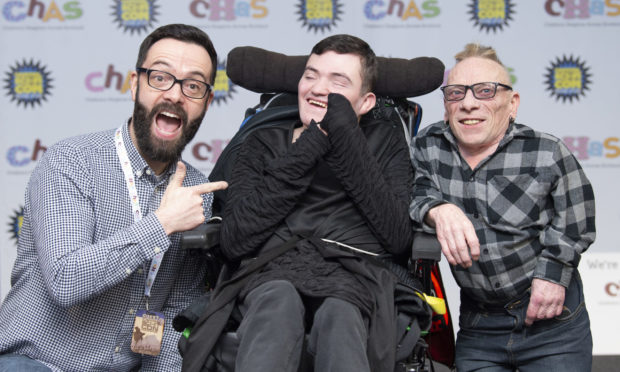 Capital Sci-Fi Con, Edinburgh's not-for-profit sci-fi, movie and pop culture event, has raised more than £59,000 for CHAS at its 2020 convention.
The event, held at Edinburgh's Corn Exchange, including activity in the 12 months leading up to it, has reached a staggering £59,085.39 for the charity.
The Scottish Science Fiction Convention, which organises the annual festival, has been applauded for raising £310,981.46 overall.
For the last five years, thousands of passionate fans have gathered with the cream of the science fiction and fantasy genre to raise money for Children's Hospices Across Scotland.
The event is driven and organised by a group of volunteer 'causeplayers', led by Livingston man Keith Armour, whose Herculean efforts for the charity have been recognised by Downing Street's Points of Light initiative.
Keith said: "I'm so pleased with the way everybody came together to pull off this year's Capital Sci-Fi Con and the many satellite events we had surrounding it.
"Since we launched five years ago, it continues to be a labour of love made for fans, by fans. When I look back at some of our highlights and milestones so far, it's mind-blowing.
"Seeing families from Rachel and Robin House often come over to take a break and enjoy the occasion has always made our events a sincerely gratifying thing to be a part of in itself. Whenever the coast is clear, we can't wait to get back at it."
Highlights over the last five years have included special appearances from five different incarnations of Doctor Who – Peter Davison, Colin Baker, Sylvester McCoy, Peter Capaldi and David Bradley, plus countless heroes and villains from the Star Wars, Harry Potter and Game of Thrones series.
They have been joined by an army of comic book illustrators, story tellers, memorabilia vendors and custom film prop sets to welcome the public – which includes families from all four corners of the country who receive support from CHAS – for a weekend of intergalactic fun.
All money raised by Capital Sci-Fi Con and the team's various mini conventions and cinema cosplay events throughout the country are donated to CHAS