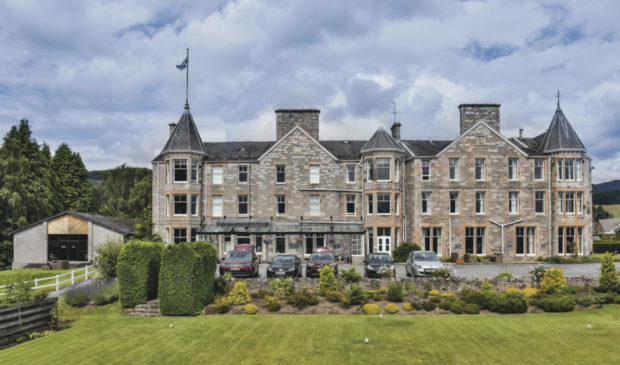 The closure of a landmark Perthshire hotel has sparked fears for the local economy as the coronavirus lockdown takes its toll on tourism in the area.
The Pitlochry Hydro Hotel's parent company, the Specialist Leisure Group (SLG), went into administration on Friday.
Bosses at the company, which also included Shearings coaches, blamed the coronavirus for the move, which cost 34 staff at the Pitlochry Hydro Hotel their jobs.
The hotel's last guests are thought to have departed on March 20.
The announcement is a second major blow for Pitlochry, after organisers cancelled this year's Enchanted Forest event, which generates around £7.6 million for the local economy.
Joint Administrator for SLG, Andrew Woodward, said: "The group has been significantly impacted by the COVID-19 pandemic as all tours, trips and events have been cancelled and the hotels closed to the public, leading to a significant cash shortfall."
Almost 2,500 jobs have been lost across the company.
Highland Historian tour guide Andrew McKenzie said the hotel's closure would have a knock-on effect on other areas in Pitlochry.
Blow for Pitlochry as hotel in large Victorian building closes for good due to coronavirus
He said: "The Hydro is a big place in Pitlochry and gets a lot of visitors every year.
"It is also about the surrounding businesses such as museums. For a place like Pitlochry, does that mean the High Street will go downhill and will people be able to afford their rent?
"It's very worrying. My heartfelt condolences go to the people who have lost their jobs."
Pitlochry resident, Bob Thomson said the hotel was very much part of the community and the loss would be felt by many.
He said: "The Hydro contains a swimming pool of dimensions where you can have a 'proper' swim.
"I was a senior citizen member there for a number of years, and will miss the facility.
"I just hope and pray that the Hydro is not the first of many to fail due to this pandemic."
SNP MSP John Swinney said: "The closure of Pitlochry Hydro is very concerning, and further evidence of the economic damage being caused by COVID-19.
"My immediate thoughts are with the staff members and their families, and I will work closely with the Tourism Minister, Fergus Ewing, to try to find a solution to this very significant issue.
"Should any affected constituents have specific concerns, I would ask that they contact my office directly."