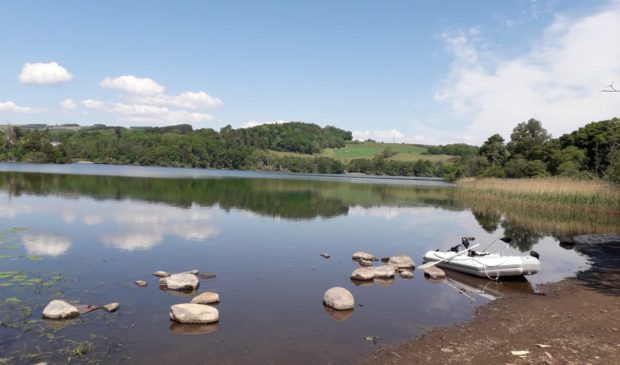 A 41-year-old man has been charged following an alleged stabbing at a Perthshire beauty spot as estate owners call for government action to tackle anti-social behaviour.
The suspect was arrested by officers in connection with a serious assault at Clunie Loch around 3.30am on Sunday which left the victim, Jimmy Mclean, in hospital.
Mr Mclean, 57, had been patrolling the grounds for camp fires when the attack took place.
In response a group of Perthshire estate owners have written a letter to Depute First Minister, John Swinney, demanding action.
Man charged following alleged stabbing incident at Perthshire beauty spot
The group highlight a number of incidents other than the alleged stabbing, including trees being chopped down and fence posts pulled out to be used for firewood, bonfires being lit, bins set alight and a huge amount of litter left behind.
Sarah-Jane Laing, chief executive of Scottish Land and Estates, said: "The incidents around Loch Clunie last weekend were beyond shocking and culminated in an innocent worker almost losing their life as they attempted to prevent the serious anti-social behaviour in the area.
"The lockdown period around Blairgowrie and Dunkeld as well as in many other rural areas has led to a heightened spate of mindless and dangerous acts including incidents of vandalism and flytipping.
"The small minority who engage in such criminality have accessed rural Scotland as a place they believe they are less likely to get caught.
"This places a heavy toll on our rural communities and especially on businesses which are already struggling due to the pandemic.
"We want to speak to politicians and government and see what more can be done to prevent these incidents rather than accepting that we have to deal with the clean-up afterwards."
Mr Swinney, SNP MSP for Perthshire North, said the incidents are of concern to estate owners and said he would be speaking to their representatives in the coming days.
"The events that transpired around Loch Clunie were completely unacceptable, and make a mockery of the sacrifices that so many of us have made and continue to make in our attempts to suppress Covid-19.
"I am grateful that the Chief Inspector has confirmed that extra policing resources will be available this weekend.
"I would also appeal to those inclined to disregard Scottish Government guidelines to reflect carefully upon their responsibilities to others," he added.
Police Scotland confirmed that a 41-year-old man had been charged in connection with the serious assault.
A spokesperson for the force said: "Enquiries are ongoing and a report will be submitted to the Procurator Fiscal."