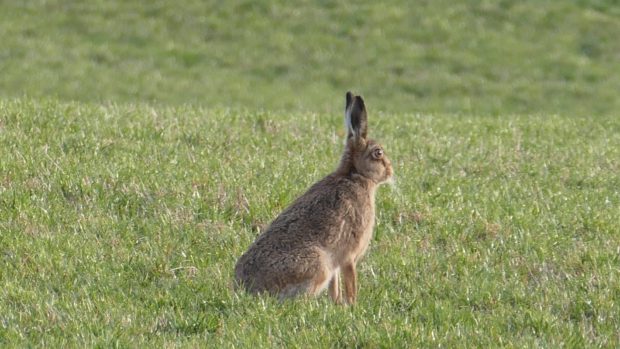 A wildlife charity has condemned the rise in hare coursing incidents across Perthshire after an animal was killed by two dogs and thrown from a car on Sunday.
Two men were seen taking part in the illegal bloodsport in a field at Campmuir Estate near Coupar Angus where lurcher-type doge were used to chase down the petrified animal.
The suspects drove into the field in a blue Subaru Forester at around 7.30pm when the driver released the two dogs which killed the hare.
The dead animal was then retrieved by the driver who threw the corpse into the corner of the field as the car drove away in the direction of Kettins.
Sunday was the latest in a string of incidents across Perth and Kinross with police reporting an "upsurge" in hare coursing across the local authority.
The Courier understands there were also three reports of suspected hare coursing near South Lochton Farm at Abernyte when a a silver Defender and a navy car were spotted driving suspiciously around fields.
Robbie Marsland, director of the League Against Cruel Sports Scotland, told The Courier: "Hare coursing is a mindless, cruel activity carried out by individuals who take pleasure in watching animals suffer.
"This is an illegal wildlife crime and those who participate should be exposed and brought to justice.
"It is clearly concerning that coursing incidents appear to be on the rise and we would urge anyone with any information to contact the police to help stamp out this barbaric so called sport."
Chief Inspector Graham Binnie, local area commander for Perth and Kinross, said gambling can play a role in the bloodsport which has been illegal in Scotland since the Protection of Wild Mammals (Scotland) Act 2002.
Chief Inspector Binnie said: "We have seen an upsurge in reports in the area recently and I would urge anyone to report this type of crime.
"If you are a farmer or a landowner and you'd like to report any suspicious activity or people on your land – particularly suspicious people with dogs such as lurchers or greyhounds – please contact police on 101.
"The persons involved in this antisocial activity will use lurchers, greyhounds and whippet dogs which hunt by sight and are normally walked across fields on slip leads and are released when any hares run off.
"It has been known for multiple dogs to chase one hare and money to change hands depending on which dog kills the hare."
Witnesses to the Coupar Angus incident said the driver of the vehicle was white, in his 50s, short and heavy built with short brown hair, and was wearing a grey zip-up top and blue jeans.