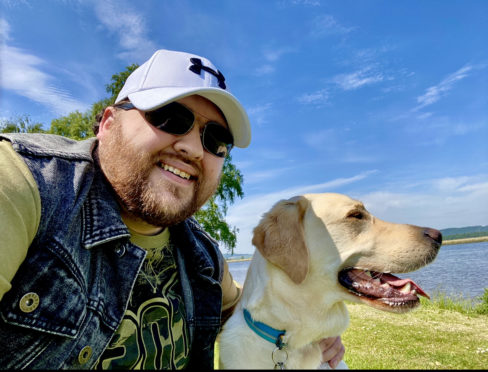 A Tayside guide dog owner fears the impact on his independence as the nation grapples with social distancing.
Worries over increasing isolation for the blind and partially sighted have emerged following a survey revealing just one on five people would be willing to offer help to someone with sight loss.
Perth man Jonathan Attenborough said Covid-19 has already dented his confidence and he fears it will become more challenging.
Jon said: "Not being able to socially distance is a major challenge to my independence and keeping myself safe.
"Now that lockdown is lifting, other people are trying to get their life back to what it was, but it's a whole new world for people with sight loss."
Going into shops and returning to public transport could be particularly challenging for guide dog owners.
Jonathan added: "I don't always know there is a queue because my dog, Sammy takes me to the door of the shop, not the end of the queue.
"Shops have introduced visual indicators and one-way systems and if you can't see, they're a major challenge."
Guide Dogs Scotland research has found just 22% of the UK public would feel "completely comfortable" offering to help someone with sight loss while social distancing measures were in place.
Not knowing how to help from two metres away and being concerned about making physical contact were major concerns.
The charity has launched a Be There campaign to encourage the public to feel confident in their ability to offer support while still maintaining social distancing through measures including offering help and describing the scene to those with sight loss.
Jonathan added: "It's a lot for us to adjust to and it would really help if people have an awareness of how they can play their part."
Guide Dogs regional head of operation for Scotland, Wendy Rankin said: "Lockdown being lifted isn't the start of greater freedoms for everyone.
"In the past couple of months, we have consistently heard that people with sight loss are concerned about social distancing – even the most confident are lacking confidence in the new environment."
Meanwhile, the charity has said there are no immediate plans to resume operations at its Scottish training base in Forfar.
More than 80 dogs in training have been permanently boarded out in homes across Tayside since lockdown began.
"The health and welfare of staff and visitors at the centre is of utmost importance," said a charity spokesman.
"We're closely monitoring the easing of lockdown stages as led by the Scottish Government, and what measures we can put in place within the appropriate guidelines."