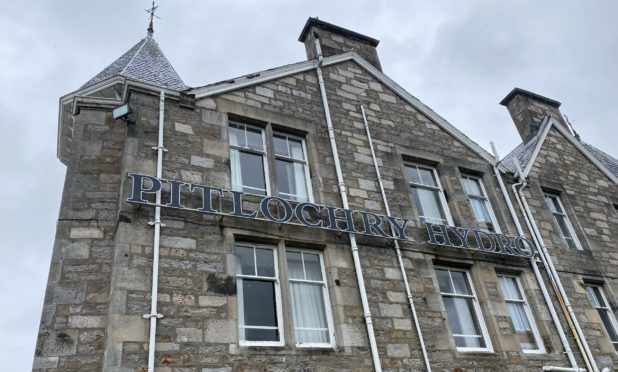 Out-of-work staff holed up at a deserted Perthshire hotel face a race against time to find new jobs and accommodation.
Seven workers are still at the Pitlochry Hydro, three weeks after the Victorian venue was forced to close when its parent company went into administration.
The mostly eastern European staff fear they could be made homeless after they were given just 28 days to find work and leave the site.
It is understood landlords have arranged a time extension of two weeks.
One employee told The Courier: "We don't know what's going to happen.
"We are applying to work in the hospitality industry and many of us want to stay in the area around Pitlochry.
"But of course, there's no work in the hotel sector at the moment, so we are running out of choices."
The staff member, who asked not to be named, said: "The community has been really supportive and we have had offers of temporary accommodation.
"But I can't drive, and so there is nowhere really suitable for me to stay right now.
"I think I will have to retrain very quickly and find some other kind of work."
The staff member, who has been part of the Pitlochry Hydro team for one-and-a-half years, said: "It was a good company to work for and we were all very sad when the hotel had to close.
"We knew that the coronavirus was going to hit the hotel industry, but we didn't expect it to hit it this badly."
More than 30 staff lost their jobs when the hotel was closed in May by owners Specialist Leisure Group, a hotel and leisure travel company based in Wigan. It is understood most employees have either returned home or found new work, with some moving into the care home sector.
Local SNP councillor Mike Williamson said: "I have been trying to find accommodation for the people who remain at the hotel. The Pitlochry Partnership put out an appeal, asking for anyone with spare accommodation to let them know.
"A number of offers came back and these were passed on to the staff."
He said: "The council are also in a position where we can offer them temporary accommodation, while we try to get them something more permanent."
A spokeswoman for Specialist Leisure Group said: "The majority of the group's hotels, including the Pitlochry Hydro Hotel, were leased. The landlord of the Pitlochry Hydro has appointed Bespoke Hotels to manage the hotel and the scope of services, including a caretaking role at the hotel.
"We understand that Bespoke are engaging with the live-in employees."
She added: "The administrators have proactively engaged with the various landlords across the hotel portfolio regarding live-in employees and have worked with them to provide a period of 28 days to allow the former employees some time to source alternative accommodation.
"We understand that the landlord at the Pitlochry Hydro has since extended this period."
No one at Bespoke Hotels could be reached for comment.