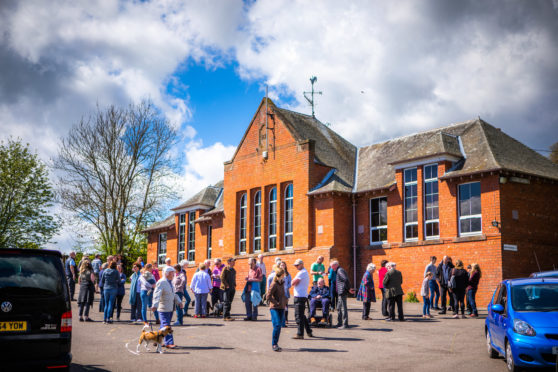 Perth and Kinross Council are remaining tight-lipped over the cost of a failed legal challenge they ignited against the Scottish Government in a bid to prevent a review into a Carse of Gowrie school's closure.
The School Closure Review Panel has resumed its investigation into the decision to close Abernyte Primary made last year, having been challenged by the local authority in the court of session.
Council bosses felt the intervention was unlawful, but their case was thrown out by Lady Wise last month.
The full legal fees, including Holyrood costs induced by the council, are still being calculated, but the local authority are not yet revealing the price of their own legal services, provided by established law firm Brodies LLP.
The local authority wish to see the complete review finished before revealing the cost.
A Freedom of Information officer stated: "It is my opinion that releasing information relating to the total fees paid would prejudice substantially the ability of the council to conduct its business.
"A legal process is still underway in relation to this matter, which is under consideration by the School Closure Review Panel.
"The disclosure of this information would satisfy the general right of access to information, but would be likely to have a significant disruptive effect on the way in which the council conducts their business and this has to be taken into consideration."
Council bosses had planned to shut the rural school next month, but given it is now unlikely that the review will be complete until the summer break, bosses have agreed to keep the school open for at least another year.
The legal challenge was branded a "waste of cash" by Perth and North Perthshire MP Pete Wishart, who wants to see the fees revealed.
He said: "It is hugely disappointing that Perth and Kinross Council are trying to conceal the costs of this legal action from council tax payers.
"In my view, it is clearly in the public interest to disclose how much cash has been wasted in bringing about this court case.
Council bosses explained that legal action is determined by council officers, but "non-routine court action" is not instigated without discussion with the council leader and relevant convener.
Mr Wishart has since called on council leader Murray Lyle to explain his thoughts on the challenge's chance of success in court and asked lifelong learning boss Caroline Shiers to consider her position.
Cllr Shiers echoed a council spokesperson who said the figures will be released later on.
A council spokesperson said: "We are engaging with the School Closure Review Panel as they undertake their considerations in relation to this case.
"We are committed to transparency and will provide all relevant information, including costs, at the conclusion of the process."
Cllr Lyle was approached for comment.