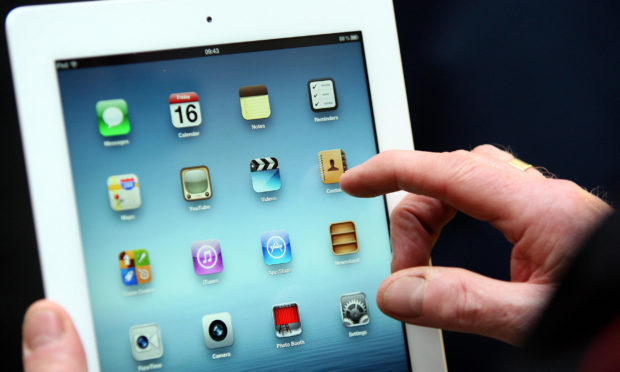 A Perth family-of-six living in "digital poverty" are sharing just one mobile phone to access all of their online schoolwork.
The inequalities facing locked-down households in Perth and Kinross have been highlighted by a local charity fighting to support children and students who fear they are being left behind by a lack of technology.
Esolperth, a Fair City-based organisation that gives free English lessons to refugees and migrant families, is raising money to buy tablets and laptops for struggling youngsters from nursery to university age.
The Scott Street charity hopes to build up a library of computer equipment that can be borrowed by locals. It also wants to offer more support to families with broadband connection and other IT issues.
Senior tutor Linda El-Miligy, who set up Esolperth five years ago, said: "It's hard enough for children who were born here, but children whose first language isn't English have been put at a real disadvantage.
"We know of two big families which have had to do all their work and education on the same mobile phone. It's just so difficult for them. They have been struggling on like this for about three months and they feel they have lost their English.
"They have spent all this time at home, speaking their own language, without any interaction with anyone who speaks English.
"We have also heard from students who don't have access to computers, and are trying to do all of their university work on their phones."
Fundraising has allowed the charity to buy tablets for families in need. Linda said she was also delighted to receive donations of second-hand computer kit.
"It's very common for people to buy new computers and put their old ones away in a drawer, where they might never be used again.
"They could make a real difference to our families," she said.
The online fund-raiser is being supported by the Aviva Community Fund, and has already made nearly £1,000.
Perth and Kinross Council has also been doing its bit to support families struggling to keep up with online lessons.
A report to go before councillors later this week reveals that more than 350 dongles have been given out to families, to allow them to connect to the internet, while iPads and laptops have also been distributed.
A spokesman said: "Most children and young people have been accessing their learning at home, through a variety of paper-based resources and online and digital means.
"A significant effort was made to identify those families for whom digital access to learning was hampered by a lack of either internet connection or devices."