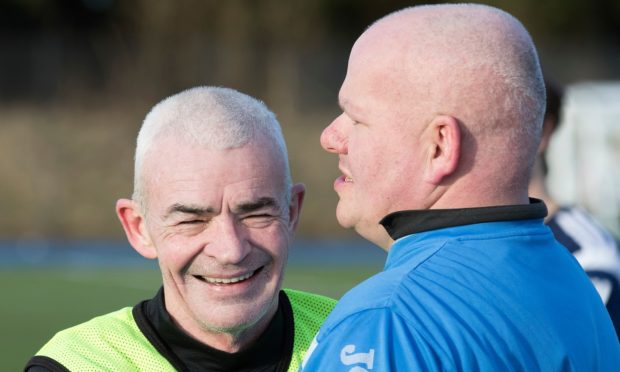 A 63-year-old Perth veteran whose stomach was removed in surgery has set himself a gruelling physical challenge to raise money for charity.
Football fan Peter Roberts has battled back from serious depression after his stomach, spleen and half his diaphragm were removed in a life-saving cancer operation.
However, he is refusing to let his condition stop him from raising cash for Saints in the Community – a mental health and well-being team linked to St Johnstone Football Club.
He has taken on an arduous list of physical challenges including the virtual Dundee kiltwalk between July 3 and 5 this year.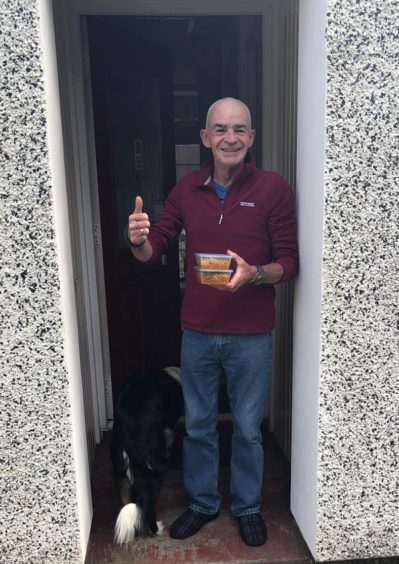 As well as completing the 10 mile walk around McDiarmid park with a 30lb rucksack strapped to his back he will do 50 press ups and take part in a bleep test – the fitness exam use to test police officers and soldiers.
He said: "I'll be on a stretcher for the next day or so because I don't have any stomach muscles.  Everything will be a challenge, but I love a challenge."
Peter served in the Royal Highland Fusiliers in 1990s.
"I used to be in the military and after my surgery I felt useless to the world after being fit all of my life."
He said he became depressed and had suicidal thoughts after the operation in 2005.
"Football saved my life. Saints in the Community kept me going. It gave me something to live for."
He intends to repay the support he received by completing the challenge with his Collie dog Sam by his side.
"I can really relate to people struggling mentally, physically and financially at the moment and I just want to give something back."
Saints in the Community is a Perthshire charity that seeks to use football as a tool to create social good.
The group's mental well-being football squad – first established with a small group of participants from the Murray Royal Hospital in 2010 – has expanded significantly with players taking part in weekly coaching sessions at McDiarmid Park.
The group also has two teams participating in the Scottish FA Mental Well-being league.
A spokesman from Saints in the Community said: "Throughout the pandemic Peter has made regular donations to the foodbank and regularly collects newspapers and messages for his neighbours.
"Due to Peter's age and condition, his recovery is not as quick as it once was. However, despite knowing that he will likely need days to recover after this challenge, he knows the impact Saints in the Community can have on people.
"All the money he raises will be split between our regular programmes and our recent Give and Go community support initiative," he added.