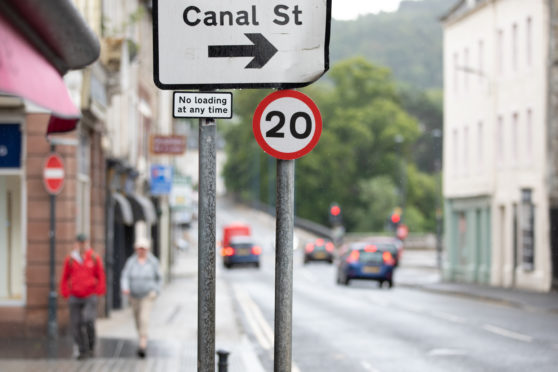 Perth and Kinross residents have called for the implementation of a 20mph speed limit to help pedestrians social distance to be rolled out across the region.
A 20mph limit was applied to some streets in Perth to assist pedestrians observe social distancing.
Former Crieff Community Council Chairman, Craig Finlay contacted Perth and Kinross Council to ask why the town did gain similar measures.
Mr Finlay described some pavements as "very narrow", adding this "forces pedestrians onto the roadway to avoid close contact when passing other pedestrians."
The council's Spaces For People Project Officer, Daryl McKeown said consultations on a roll-out are continuing, including in Crieff, with discussions having begun between the council, and Transport Scotland and Bear Scotland.
Mr Finlay said: "The possible introduction of a 20mph speed limit to enable safer pedestrian flow in Crieff is very welcome.
"For the past few months, I've campaigned to bring about a lower speed limit through the town and circumstances around social distancing has meant that this might now be possible to implement.
"Many of the footpaths in Crieff's main retail area are extremely narrow and this can force pedestrians into the roadway when passing others – a problem which has been exacerbated when pedestrians are avoiding close contact with others when out walking.
"This roll-out should be adopted as soon as possible and I'm sure it will prove successful."
Councillor Roz McCall, of the Strathearn ward, said: "The change in social distancing regulations has enhanced the need for looking at how we travel, if travel is necessary at all and are there other alternatives open to us, rather than taking the car.
"I am happy that Strathearn and Crieff are being looked at in this way as it is imperative we stay safe from the viral infection but take the opportunity to make a benefit toward road safety at the same time."