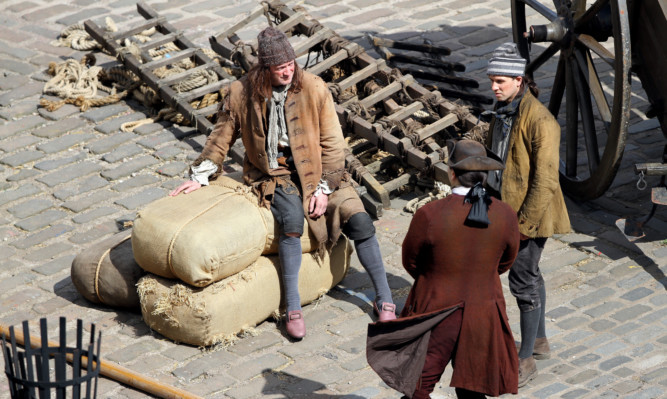 Urgent action is needed to help Scotland capitalise on Hollywood-style productions like Outlander, a seminar in Perth was told.
Senior location scout David Taylor – the man responsible for transforming Glasgow's George Square into downtown Philadelphia for Brad Pitt blockbuster World War Z – said that the Scottish Government must be more proactive to help boost the country's screen industry.
Mr Taylor was talking at the launch of a new tourism drive aimed at luring more big-name productions to the Perthshire area.
He said that Outlander, which was partly filmed in Perthshire and Fife, had helped the industry grow by £12million to more than £42million last year.
"I welcome this increase," said Mr Taylor, whose credits also include Whisky Galore and Glasgow-based sci fi tale Under The Skin. "But I have to point out that the total value of UK production activity in 2014 was £1.47billion, meaning Scotland's share of film and high-end TV production is little more than 3%."
He said the screen sector in Britain was booming because of UK tax incentives. "At the moment in Scotland, we are failing to take advantage of this."
Mr Taylor told the packed seminar in Perth's Station Hotel that visiting productions were a major boost to local communities.
Filming the remake Whisky Galore in the north-east of Scotland recently had brought about £1.5million to the area, he said.
Delegates heard that proposals for a large-scale film studio complex at Edinburgh – complete with six sound stages – would have a "dramatic effect" on the country's screen industry.
Mr Taylor said: "It is not too late to up our game, but it needs for our government to be decisive and take action now."
Yesterday's event was coordinated by FifeScreen and TayScreen Scotland and was part of a series of Perthshire tourism talks.
Location manager Duncan Broadfoot, whose credits include Mission Impossible and James Bond film Spectre, gave a brief talk via video link.
There were also talks from Jenni Steele, film and creative industries manager for VisitScotland, TayScreen project manager Julie Craik and Suzanne Cumiskey, business development projects officer for Perth and Kinross Council.
The venue was close to Perth train station, which was used in the 2013 film Railway Man starring Colin Firth and Nicole Kidman.
The station was turned into a 1950s version of Edinburgh Waverley for the film, based on the autobiography of Eric Lomax.