In a wide ranging interview, Michael Alexander speaks to the founding chairman of Scotland's Charity Air Ambulance John Bullough who believes the return of the Stone of Destiny can bring new lifeblood to Perth city centre.
When Perthshire businessman, charity founder and part-time police officer John Bullough thinks of all the projects he's been involved with over the years where the initial reaction from the community has been sceptical, he is drawn to the words of 19th century German philosopher Friedrich Nietzsche who said: "And those who were seen dancing were thought to be insane by those who could not hear the music".
It's a positive analogy that John uses when he thinks back to the initial proposal for Scotland's Charity Air Ambulance (SCAA) at Perth Airport in 2010 and his ongoing role at the forefront of the campaign to bring the Stone of Destiny home to Perth.
But far from being put off by what others see as impossible, the 51-year-old former Army officer describes such obstacles as his "happy place" that make him even more determined to succeed.
"If you are wanting to work on a project that's really going to create positive change, then people are going to fight against it," John says.
"The informed people are going to buy it – the uninformed and ignorant are going to respond with anger.
"But the greatest measure of any disruptor project for the future is how roundly it is rejected – how many times it is told to F-off!
"Certainly for me, that was the case as far as Scotland's Charity Air Ambulance was concerned and regarding the Stone of Destiny – pretty much everybody telling you we couldn't do it, which to me is like a red rag to a bull!
"You know you are on to something when you are told it can't be done. But hopefully my best work is yet to come!"
Born in Brampton, Cumbria, and brought up at Huntingtower, near Perth, the former Glenalmond College pupil and Sandhurst graduate served with the Scots Guards during the first Gulf War and in Northern Ireland – leaving the army after five years with the rank of captain.
One of the most difficult decisions of his life – and "certainly one of the darkest moments" – came in March 2016 when "changing times" forced he and his wife Georgina to close long established family-run department store McEwens of Perth which went into administration with the loss of 110 jobs.
The company had traded at its St John Street site since March 1868 and also had branches in Ballater and Oban.
John misses the staff and customers every day. He knows he and his wife did everything they could to "keep that unsustainable business going".
"I hope that under very difficult circumstances we conducted ourselves with integrity and compassion," he adds.
However, despite Perth High Street – along with every high street in Britain – facing incredible pressures even before Covid-19 started to bite, John believes Perth city centre has a great future and he is in no doubt it is "perfectly positioned to have the renaissance it deserves".
He feels "very privileged" to have been chairman of Perth City Development Board from its formation in 2012 until earlier this year.
A key to the future of Perth includes an environmental agenda as recently laid out by new Perth City Leadership Forum chairman Mike Robinson through his ambition for Perth to become Europe's most sustainable small city.
However, with retail decisions increasingly dominated by online and out of town shopping even before coronavirus, John said the future vision also acknowledged that retail, while essential, is no longer the primary reason why people visit city centres.
Instead, it's all about culture, cuisine, leisure and a day out experience for the whole family.
It's with that in mind that he has been at the forefront of a campaign to bring the Stone of Destiny back to Perth. He helped launch the project over a decade ago alongside retired headmaster Mike Beale and the late Roddy Young who also worked together to help instigate the idea for the SCAA.
John said that of all the projects that the Perth City Development Board worked on, the Stone of Destiny has the potential to "single-handedly change the future of our city centre".
"The Stone is one of the world's greatest and most romantic national artefacts and we have got an opportunity to tell the story of Scotland and the potential to create an internationally renowned cultural destination that would drive hundreds of thousands of tourists to the city centre," he said, adding that his family have a personal connection to the stone as his wife Lady Georgina Bullough – the daughter of the late Earl of Mansfield – was born and brought up at Scone Palace.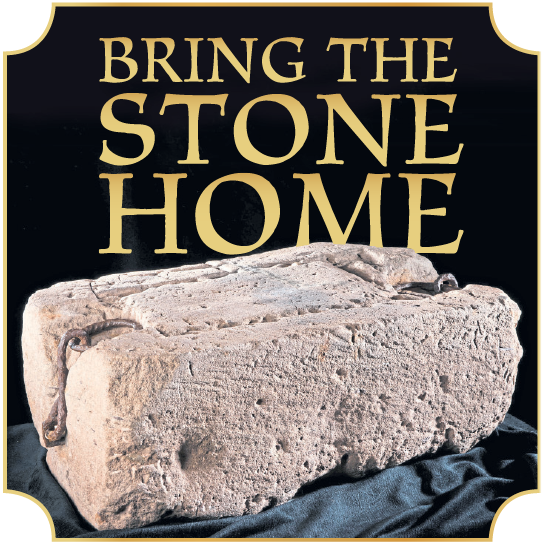 "Perth city has been the centre of Scotland's history from the ninth century and there's an opportunity for us to be able to tell that story and put Perth back in its place.
"There is an exceptionally professional proposal submitted to the Scottish Government for the Stone to be relocated from Edinburgh Castle to a purpose built cultural facility in the City Hall.
"The matter is with the Scottish Government who are hopefully going to be announcing their decision in the near future. But the signs are extremely encouraging – hopefully it's just a matter of time."
John laughs when he says he's "never had an original idea in his life".
However, what he brings to the table when working with others, he says, is a "very stubborn" streak and a "bloody minded tenacity" that refuses to accept when he's told something can't be done.
That was certainly the case with the formation of SCAA, he adds.
He's incredibly proud that the charity, of which he is founding chairman, launched its first Helimed76 helicopter at Perth Airport in 2013 and was recently able to launch it's second helicopter Helimed79 at Aberdeen – the decision being taken during lockdown despite not reaching their full funding target.
The highly successful project is now an integral part of Scotland's frontline emergency response network, responding to trauma incidents and medical emergencies and saving countless lives.
However, he also hopes the tenacity of the project can inspire other initiatives, like the Stone of Destiny, to succeed.
"The three original founders of SCAA, who were all local Perth businessmen – we had all separately in our lives had different experiences of how helicopters can save and improve lives," he explains.
"Personally as a retired army officer and a current volunteer police officer, I had seen people being saved by intervention of helicopters and unfortunately had seen people die because they weren't available.
"We are very lucky in Scotland as we've got the only two state funded helicopters in the UK. That's something we should all be incredibly proud of.
"But that simply wasn't enough for Scotland's 30,000 square miles and 100 inhabited islands.
"The conception of the charity back in 2010 was the joint vision us three had – the dream to create Scotland's first charity air ambulance service.
""Most important at that first stage was for us to take that first project to the market and see if people were interested in funding it. We took it to Scottish and Southern Energy and Brian Souter and Ann Gloag (founders of Stagecoach) who I am very lucky to know personally.
"Within the first two weeks of doing a roadshow with the project we raised £300,000 towards the £2 million we needed per year for the first helicopter. We realised early on it was fundable.
"We still had the long road to be able to convince the Scottish Government, the Scottish Ambulance Service and the NHS that we really needed this service.
"But that was 2600 missions ago and the operational statistics now speak for themselves!"
John said they had been "astonished" by the level of support they'd seen from the people of Grampian and the Highland region in support of the second Helimed79 service.
"It was a difficult decision for our trustees to go ahead with the launch in March when we couldn't go out and tell people our story," he says, "but it was the right decision. Helimed79 has already saved several lives and improved many more in those first months.
"There's no doubt our fundraising team have a huge challenge in this ongoing crisis to raise £12,000 per day to keep both those helicopter services running. Charities are having a very difficult time during Covid-19.
"But I've no doubt they can do it. I really feel the people of Scotland have adopted us. People understand what we deliver and understand that in a rural country like Scotland our service is indispensable."
John's 'day job' now is director of Agile Recovery Ltd – an environmental technology developer which is submitting an application for a power plant in Inverurie that will transform biodegradable waste into electricity.
However, for 13 years he has also been "really passionate" about his work as a Special Constable.
He works predominately as a response officer attending a wide variety of Police Scotland emergency calls in and around Perth city centre.
He's been at the sharp end of all manner of "routine" call-outs during the Covid-19 lockdown.
With an elderly member of his household shielding, he took the decision to move into an outhouse at the start of lockdown so that he could work freely with the police and avoid potential cross-infection.
"I have to say, I've got huge respect for my regular police colleagues who have worked under extremely difficult circumstances during Covid," he says.
"In many cases they are at much greater risk than any other public sector colleagues.
"I think support locally has been great. We are lucky to have good relations with the community in Perth.
"But overall they've done this with little to no recognition.
"It's a shame that racial tensions reported recently across the national mainstream media have somehow focused on the police as the focus of their fear and anger.
"The police are subjected to violence – I believe the statistic is every 20 seconds in the UK.
"These guys are humans too. They are very passionate about keeping people safe and doing the right thing. I genuinely feel they deserve our thanks and respect. But mostly the simple recognition that they are just doing their job!"
John, who is also a major and adjutant of the Atholl Highlanders and a Perth and Kinross committee member of the Order of St John, said it's a "great honour" to work alongside regular police officers and assist where he can.
"I really value my time working with the police partly due to the fact in all the charity projects I've been involved with there is sometimes a lack of association between the work that you do and the outcomes that you have on the community," he adds.
"If you go and raise money and shake a tin, you don't always know where that money goes.
"If you run a marathon and raise money or bake cakes and raise cash you don't actually see the outcome of that hard work whereas as a police officer – every time you walk on the streets, every incident that you go to you can see and hear and feel the benefit that you are giving to the community.
"I'm completely passionate about improving peoples' lives and there's no better and honourable way of doing that in my opinion than working in the emergency services."