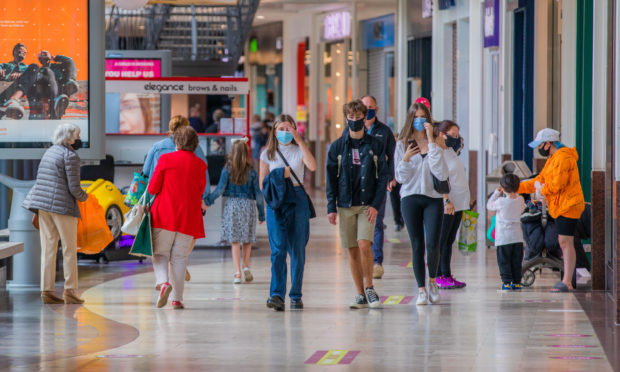 Customers were welcomed back to indoor shopping centres across Tayside and Fife on Monday, as the country's lockdown restrictions were relaxed further.
Popular malls such as the Overgate in Dundee, St John's in Perth and the Kingdom Shopping Centre in Glenrothes reopened with a host of new measures and features to keep staff and shoppers safe.
Extra signs, one-way walking routes and plentiful supplies of hand sanitiser have been installed ahead of this week's relaunch.
Cleaners constantly wiping down surfaces and fixtures will also become a more common sight.
Overgate centre manager Malcolm Angus said he was delighted to be able to throw open the doors.
"It has been a long three months for retailers, customers and staff," he said. "There has been a steady footfall of shoppers and there is a general feeling of optimism, which we expect to build as the week progresses."
He added: "We have made every effort to ensure the safety and wellbeing of our customers, this is paramount."
More shops in the Wellgate also reopened, but as a higher proportion of its stores were open during lockdown due to selling food so there was little observable difference.
The Keillor Centre also opened its doors, though not every unit has reopened and many have lain empty for some time.
St John's Shopping Centre in Perth has a new one-way system, with an entrance on High Street and exit onto South Street. There will be a limit on how many shoppers can enter at one time.
Spokesman Derek Martin said "close to 100%" of customers were complying with mandatory face covering rules.
"Our team has been working hard over the last few months to create a safe shopping experience for our customers and retailers," he said. "We have, and continue to follow the Scottish Government guidance closely and are implementing a range of new safety measures.
"Things will feel a little different at first but if we all work together and look out for one another we can make the shopping experience as safe as possible for everyone."
David Carson, centre manager at the Kingdom Shopping Centre in Glenrothes, said it had been a long wait but now he was delighted to finally see retailers reopening and welcoming shoppers back.
He said: "About 85% of retailers are back open, and with hair salons and barbers allowed to start again on Wednesday we anticipate the centre to be at, or very near to, where we were before the lockdown.
"Our main requirement is to ensure social distancing can be maintained for those visiting us so we are controlling the numbers which so far has worked well.
"We've been lucky in that we've had essential businesses which have remained open during the lockdown but now it's about providing a safe environment for our visitors and giving them the confidence to return as we continue to ease out of lockdown."
Shoppers were also welcomed back to the Mercat Shopping Centre in Kirkcaldy and many retailers were back trading at the Kingsgate Shopping Centre in Dunfermline, which lays claim to having the first face mask vending machine in Scotland.
"It's great to finally see a good number of shops opening again," said Katrina Shaw, out shopping in Dunfermline.
"People seem to be maintaining social distancing which is good. It feels like we are at last returning to some sort of normality."