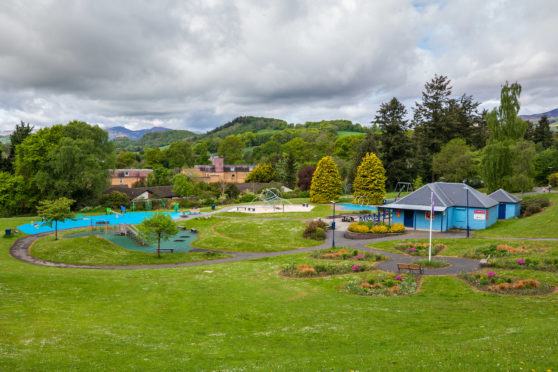 Vandals failed to wreck the launch of a new children's adventure trail at a popular Perthshire park.
Volunteers spent weeks organising, building and installing more than 30 colourful characters for a display in Crieff.
But the walking trail got off to a sorry start, when thugs uprooted some of the wooden artworks and dumped them in a nearby river.
Police have appealed for witnesses to the incident, which has been blamed on a group of teenagers who were seen at Taylor Park around the same time.
However, Kids Week in Crieff organisers said they bounced back to ensure the trail was launched in time for the summer holidays.
Rob Bell, who runs the Pavilion cafe, said: "It was very upsetting and quite unusual because we don't have a lot of incidents like that in Crieff.
"We managed to get a lot of the characters back out of the water, although there were a few bits and pieces that were broken off and we've never been able to find."
He said: "It was a team effort to repair everything and get them ready for the trail opening."
Anger after teenage BMXers in Crieff flout lockdown rules to bike at children's play park
Kids Week In Crieff (KWIC) has been running since 2016 and each year organises summer holiday activities at local sites.
Because of lockdown, it was decided to create an outdoor trail with hand-drawn characters including superheroes and familiar faces from the Beatrix Potter and Julia Donaldson books.
It was set up with backing from the Scottish Government's Supporting Communities Fund and the anchor organisation Remake Scotland.
Mr Bell said: "So far, it seems to have been a great success. We've had a huge number of people coming to the park, having their photos taken with the different characters."
KWIC chairwoman Angela Baker one of the aims of the trail was to get people outdoors to benefit their mental wellbeing.
Local independent councillor Rhona Brock said the vandalism was "so disappointing."
She said: "It all costs time and money to give people pleasure, and they are destroying it in minutes."
A Police Scotland spokesman said the vandalism was being investigated and urged anyone with information to get in touch.