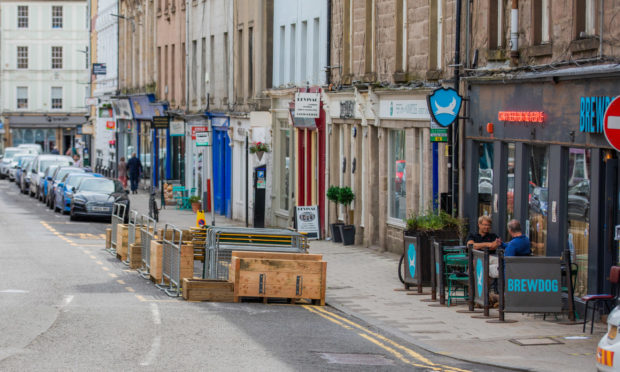 Pub chain BrewDog pub has opened up an on-street drinking area next door to a Perth funeral director despite neighbouring businesses claiming they were not consulted on the development.
The craft beer giant has installed Perth's first 'so-called "parklet" on George Street – two years after Perth and Kinross Council scrapped the idea in the face of fierce opposition from nearby traders.
Around 10 benches have been placed at a bus stop on the road as the council introduces changes across the city centre in response to the coronavirus pandemic.
Last year the the pub won permission to put four tables on the footpath outside the bar, despite complaints from funeral directors James McEwan and Son that it would cause distress to grieving families.
Traders on George Street now claim the controversial initiative has been pushed through with no consultation and poses a safety risk due to its position on the road.
Laura Wilson, owner of Whispers in the Past, said: "It just appeared last week and it seems to me that there's been no planning permission if they can put them up.
"I was furious when I found out. They want to pedestrianise this town. And if that's successful they can use it as an example.
"I never heard a word about it. I'm sure there will be an accident there.
"I think they are sneaking a lot of things in because of Covid."
A second George Street business owner, who wanted to remain anonymous, accused the council of implementing the controverial scheme without asking.
"The first I heard of it was when it appeared," they said.
Brewdog wins bid for outdoor seating in Perth, despite fears it could upset grieving families
"Certainly no-one got in touch with us. Given how controversial it was the last time they haven't made much of an effort to have a consultation.
"It feels like it's been done very quietly when no-one was looking."
A third George Street business owner said they had not been consulted on the new outdoor drinking area either.
A Perth and Kinross Council spokesperson said the move was temporary at present, but the authority was looking to work with more than 10 other businesses interested in following Brewdog's lead.
"We want to help local businesses get back up and running again following lockdown, so we're trying new ways of using outdoor space, as well as encouraging 'click and collect' from shops.
"Since we installed the parklet on George Street over 10 businesses have been in touch, and we're looking forward to seeing how we can work with them.
"Outdoor seating and tables are temporary, but in some circumstances businesses may be able to secure planning consent to make them permanent.
"Businesses interested in using extra space should speak to their neighbours to make sure there is no issue with their proposal.
"They may find that neighbouring businesses want to join forces to share a larger space."
BrewDog was approached for comment.