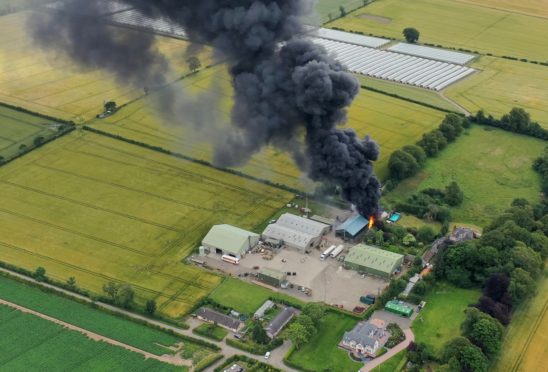 The boss of a Perthshire fruit farm has praised "phenomenal" firefighters who saved his businesses from a major blaze.
A dozen fire crews were scrambled to Rosemount Farm, near Blairgowire, as plumes of thick black smoke billowed into the sky.
The inferno could be seen from miles around.
Firefighters were called to the inferno at 10am on Saturday, and remained on the scene for most of the day.
A spokesman for the rescue service said an area of around 164 sq ft had gone up in smoke.
The farm's manager Allen Innes said the fire destroyed palettes and agricultural machinery in a building on the edge of the site.
"The fire brigade was called at around 10 o'clock, and the fire was still burning quite badly for about one to one-and-a-half hours.
"The heat was strong."
He said: "But the main thing is that no one was hurt."
Mr Innes said thanks to firefighters' efforts, it was back to "business as usual."
"The fire brigade was phenomenal," he said. "They were fantastic.
"They managed to control the fire, and for that we are eternally grateful.
"If it wasn't for them, we wouldn't be where we are now."
He added: "I want to thank the emergency services and give a big thank you to my staff for everything that they did."
A Scottish Fire and Rescue Service spokesman said: "We were alerted at 10.04am on Saturday to reports of a large fire at a farm building near Parkhead Road, Blairgowrie.
"Operations control mobilised 12 appliances including support units to the scene and firefighters are working to extinguish the well-developed fire.
"There are no reported casualties."
Dramatic images of the fire were shared on social media. Corrie Watson tweeted: "Major fire in one of the sheds at Rosemount Farm, flames are higher than the trees."
A police spokeswoman confirmed officers were at the scene to support fire crews and close off surrounding roads.
"Police Scotland, along with Scottish Fire and Rescue Service, attended at a fire in Parkhead Road in Blairgowrie," she said. "Road closures were in place at Welton Road and Coupar Angus Road."
Fire crews said the blaze was brought under control by about 1pm, but teams remained on the scene for several more hours, dampening down the wreckage of the shed and extinguishing any hidden hot pockets.