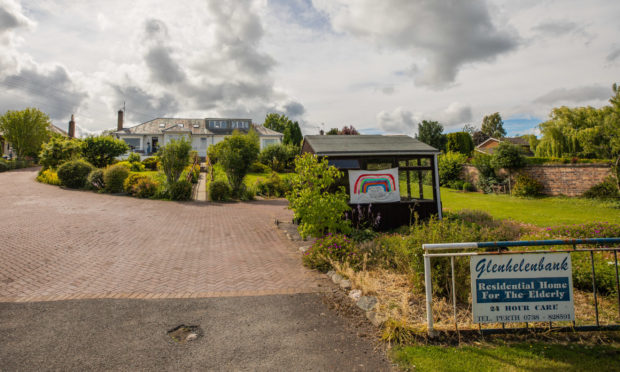 The boss of an under-fire Perthshire care home has slammed the conduct of inspectors who recently visited it to conduct a pandemic response review.
Glenhelenbank House in Luncarty was toured by the Care Inspectorate on July 1 and the unannounced visit focused on how the facility was adapting to Covid-19 changes.
Increased risk of coronavirus infection at run-down Perthshire care home, says Care Inspectorate
The resultant report criticised how well coronavirus could have been kept at bay given condition of the premises, as well as some care issues.
However, Don Roth, who manages the independently-run home, said the inspectors themselves could have been putting the home's 12 residents at risk.
Mr Roth explained when the trio of investigators arrived, he asked if any had been tested. He told The Courier the group said "robust" measures were in place but refused to say if they had taken tests.
He said the inspectors would not disclose to him if they had recently scrutinised any other homes which had confirmed or suspected cases.
"When the inspectors arrived, we asked them if they had been tested for coronavirus.
"We were told that they had a robust plan in place but they did not disclose whether or not they had been tested.
"We knew that they had been inspecting other care homes nearby but we weren't told if they had visited homes which had current or previous cases of coronavirus.
"Our home had been one big bubble from the very start when we shut down to visitors on March 17. We were quite worried by this."
Care Inspectorate bosses say they have no obligation to test their inspectors.
A spokesperson for the watchdog stated: "Inspectors are supplied with and trained in the use of PPE and in infection prevention and control measures.
"Inspectors follow the guidance set out by Health Protection Scotland in relation to infection prevention and control during inspections.
"National guidance makes no requirement to test inspectors in advance of a visit, but guidance does clearly set out the infection prevention and control procedures which must be followed."
Glenhelenbank House has had no confirmed or suspected cases of coronavirus.
The home was scored "weak" in the inspection report due to a lack of summary support and anticipatory care plans, poor storage of PPE and a lack of separate PPE bins.
Inspectors also said the condition of the home made it particularly difficult to minimise the risk of infection. Management say the building was not build with Covid-19 in mind.
Bosses say they feel hard done by, however a follow-up visit is set to be carried out at some point after July 29.
The pandemic-specific inspections of care homes across the country began earlier this summer and fortnightly reports of findings have been delivered to the Scottish Parliament.