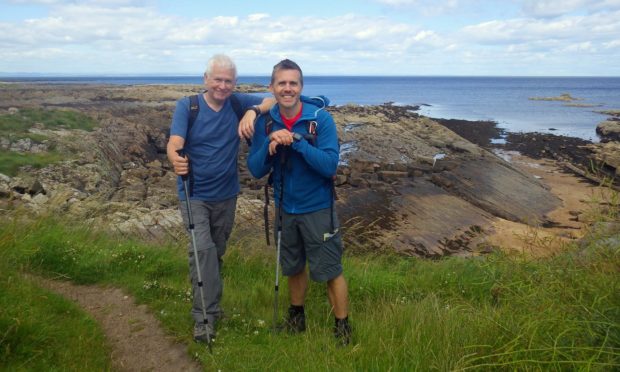 A Perth man has completed a 117-mile trek around Fife in memory of his father, raising thousands for the charity that supported him in his final weeks.
Andrew Miller finished the Fife Coastal Path challenge stopping just once to briefly get some shut-eye.
Having completed the scenic path with dad Rob three years ago, Andrew, 41, thought it would be the most fitting way to raise cash for Marie Curie, which supported Methil-born Rob, who died in June aged 68 after an almost decade-long battle with cancer.
Perth Triathalon Club coach Andrew said: "This isn't the first time I'd walked this path. In 2017, my dad and I completed the route over ten days throughout the course of the year.
"Completing the Fife Coastal Path was a big achievement for him due to his age and his health as he was undergoing cancer treatment during this time.
"We both enjoyed the time together, walking round a county we were so familiar with, but seeing it from a different angle. He would tell me stories along the way from growing up in the area, which I continue to share with my family."
At midnight on July 10, Andrew set off from Kincardine on what he knew would be over a day of solid walking, unsure if he would be able to finish the challenge.
"I was very keen to revisit the path and relive some of the memories we'd made but also to try and raise some money for Marie Curie, which had made a real difference to our family at the end of his life.
"After some logistic planning, we decided that it could be done, as long as my feet and legs could hold out, but I would need help from some socially-distanced support walkers.
"My wife was out in front with a campervan making food and I had a new walking partner every 20 miles.
"Myself and my first support walker set off from Kincardine in the dark and made fairly quick progress along the coast to the Forth bridges where the sun started to come up."
Andrew kept his pace steady through Saturday, stopping for an hour's sleep at Kingsbarns, after 70 miles.
Partially rested, Andrew went on to tackle the hardest section of the path, the tidal stretch between Kingsbarns and St Andrews.
Battling blisters, Andrew eventually reached the finish line in Newburgh at 4pm on Sunday afternoon, 40 hours after setting off.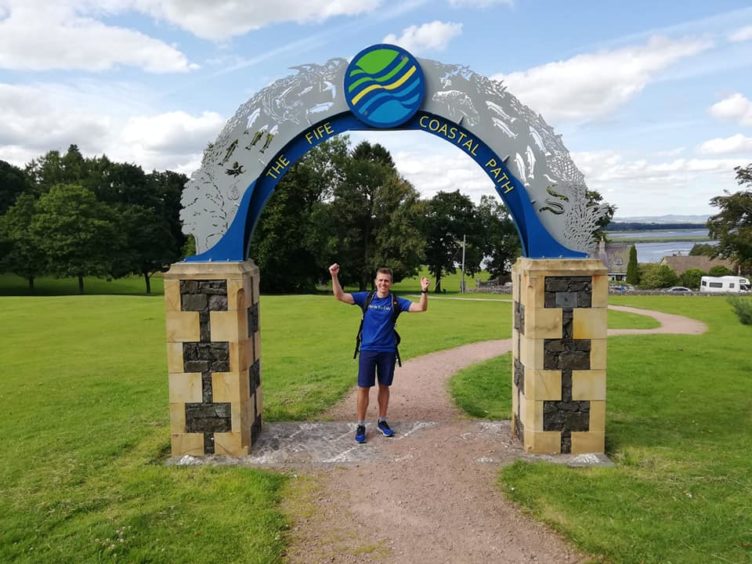 He said: "It was a very emotional finish and I was delighted to learn that we'd raised over £2,700, making all the pain very much worth it.
"I definitely wouldn't recommend doing it in one go, however it is a wonderful route with lots of landmarks, beaches and beautiful villages on the way.
"I'm very proud of my team for helping me get to the end and hopefully my Dad would've been proud as well."