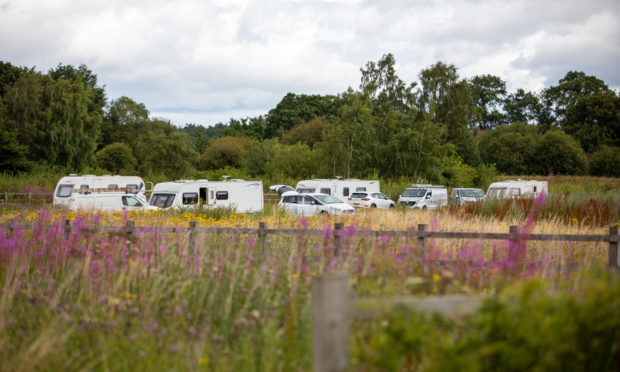 A scheme which will allow Travellers to stay on Perth and Kinross Council-owned land for a limited time is due to relaunch next month.
The negotiated stopping places pilot was approved last year but its implementation has been stalled by Covid-19.
It would give Travellers a right to occupy pre-agreed, council owned sites for a period of 28 days.
Calls for better communication between the local authority and Travellers in order to protect people from the coronavirus have been made after a camp arrived in Perth earlier this week.
Around a dozen caravans moved into the Food and Drink Park in North Muirton on Tuesday.
A spokesperson for the group said they wanted the council to move them to a safer location with electricity and toilet facilities.
Travellers who have set up in Perth call for council to move them over child safety fears
Perth City Centre's Lib Dem councillor Peter Barrett, who is a member of the national Negotiated Stopping Advisory group, believes Traveller communities arriving in the region need access to better facilities, especially during the current pandemic.
Mr Barrett said: "Given the predictions of a second wave of the coronavirus it is vital that there is more sensitive and better engagement between council and health services and the Gypsy Traveller community while they are stopping in Perth and Kinross.
"That means providing providing safe and sanitary toilet facilities, access to clean water, domestic and household waste collection plus engagement with a range of  education, children's and family services, as well as having conversations about suitable site locations and facilities.
"This is the approach that Perth and Kinross have adopted even in advance of the start of the negotiated stopping pilot as it is the right thing to do."
Mr Barrett told The Courier the scheme was meant to have been launched towards the end of last year and was again interrupted by the Covid-19 outbreak.
He said: "Revised guidance was issued by the Scottish Government on council's response to temporary Gypsy Traveller encampments.
"The council has been following that guidance to provide better supports to Gypsy Travellers as they stop and shift through Perth and Kinross."
The Courier spoke to the Traveller community when they arrived in the area where a spokesperson for the group said they were unaware of the scheme.
She said: "We've always been here, coming and going and I've never heard of it.
"The council have never been in contact."
A spokesperson for the local authority said: "We continue to work alongside COSLA and the Scottish Government as part of a national Negotiated Stopping pilot, which we are continuing to progress."