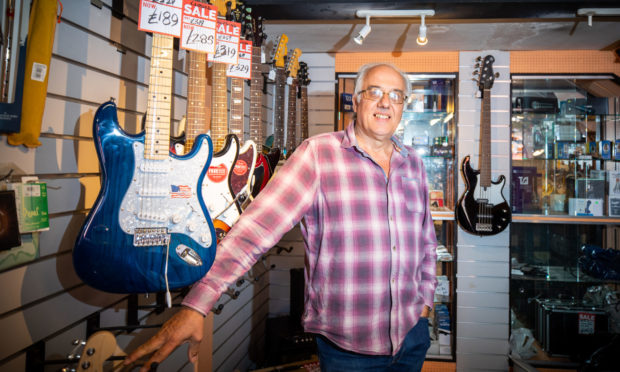 A much-loved music shop will shut in Perth city centre after 42 years with the owner blaming the local authority and years of delayed works on St Paul's Church for the closure.
Bandwagon Music Shop will close its doors at the end of August after spending four decades on St Paul's Square.
Owner Pete Caban claims he has lost 25 to 30% of his year on year sales since the hoardings went up around the building site, effectively cutting his shop off from public view.
The £2 million regeneration project on the city centre landmark has been delayed continuously since Perth and Kinross Council bought the dilapidated property in 2017.
£2m project to turn Perth landmark into space for markets and shows delayed for months
With the arrival of the coronavirus pandemic Pete told The Courier it was "the perfect storm" to force him to close down the shop and retire at 66.
The shop owner said: "That (the hoardings) killed my business last year.
"I could have easily closed my business last year because of that. That slowed me right down.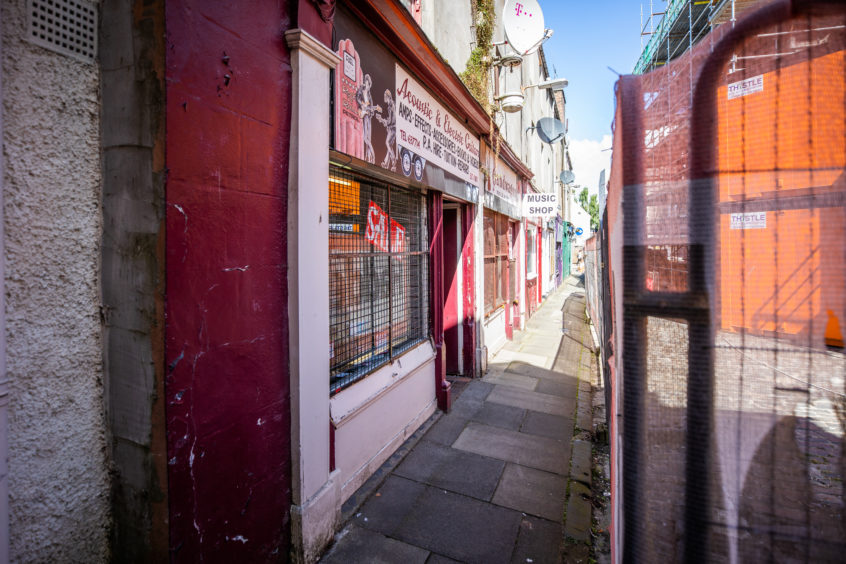 "But retail has been suffering from the internet over the past three, four years and then the pandemic just blew the lid off that.
"That's me done two Christmases with that in front of me and I couldn't have done another one.
"Business has been down 25 to 30% over the last year. That's a lot and I blame that for it.
"Every shop on the street has gone. Every shop on the Square has given up. That makes you an oasis, a wee island but that's not what you want.
"When people come into the town they look down here and think it's derelict and just walk passed. They said it would take a year but that's been four.
"The regulars are great but you need tourists, out of towners."
The businessman was sad to see another music shop close in Perth but believes it is harder for specialists shop in the current climate, especially with more people shopping online.
"There used to be three shops in the town selling musical instruments and now there's only me really and it's not what we want to see really.
"There is a need for specialists shops because specialists shops are not just about retail and prices, they're about advice and services, and you can't buy that so much on the internet.
"That's what I've been providing for years, that after-sales service and that bit more one-to-one advice."
Perth and Kinross Council say they are "committed" to supporting the town centre.
A spokesperson for the local authority said: "We know customers of Bandwagon will be sorry to see the shop close. It has supplied instruments to generations of musicians.
"We  stepped in to complete the project to transform St Paul's Church after it stalled in 2017.
"Although this has been subject to a number of unforeseen delays, when finished it will be a unique public space in the city centre, complementing the cultural and events spaces in Mill Street, Perth Theatre and the transformed Perth City Hall."
Four decades of music in Perth city centre
Bandwagon Music Shop is shutting its doors after servicing the Perth music scene for over four decades.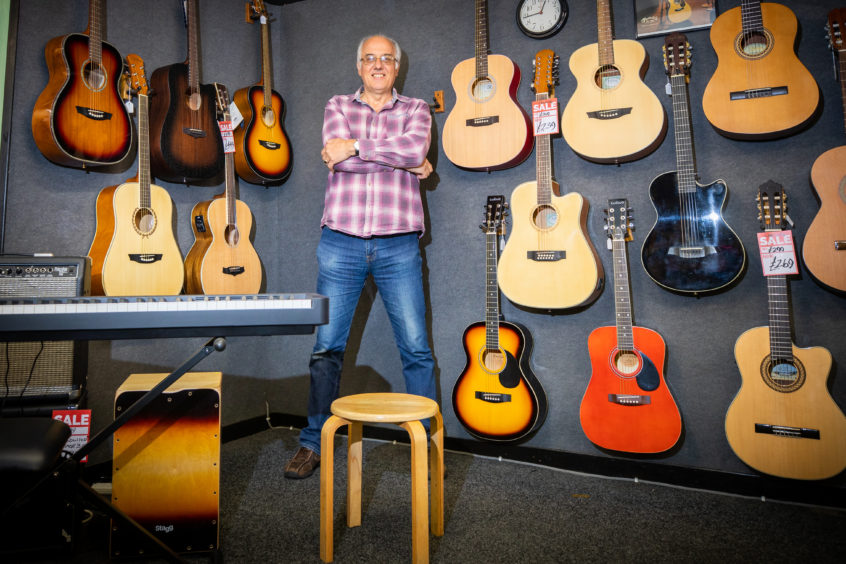 Owner Pete Caban described his shop as a hub for music lovers and players over the years where bands formed and he listened to early demos of songs that would become Top 10 singles.
Pete said: "The only famous band Perth ever produced, Fiction Factory, they were all my customers over the years since they started in 1984.
"They would come into my shop wanting to hear their recording on my wee cassette recorder that turned out to be a number six single that still gets played today.
"I still see the guys, they still come in.
"The highlight years were the mid-90s to the early 2000s, that was the peak period.
"The Oasis period as I call it, where everyone wanted to buy a guitar.
"That was the game changer for music and for me here in Perth.
"I was shovelling guitars out the door at the point. So hurrah for Noel Gallagher."
Pete, who still plays himself and runs a blues night at the Twa Tams pub, had began to see a resurgence in the Perth music scene over the last five years before the pandemic struck.