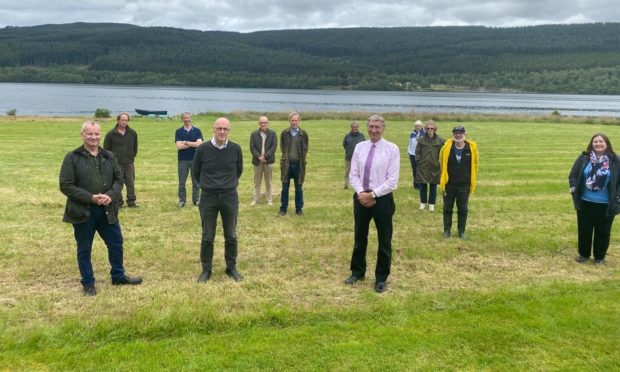 Politicians are calling on tougher enforcement against dirty campers in Highland Perthshire.
Following another weekend of volunteers misery along Lochs Tay, Tummel and Rannoch, residents have renewed calls for respectful behaviour.
A 1,600-word letter addressed to anyone planning to camp demands they do not to chop down trees for firewood, defecate in fields, speed or enter gardens.
Beauty spots in Tayside and Fife 'under siege' from scores of wild campers
Residents fear poorly extinguished campfires could wreak havoc if embers reignite. Fire crews have been routinely informing campers about safety but smouldering remains are a persistent issue.
The letter reads: "Be respectful. Be kind. Be courteous. Leave no trace behind of your visit. And please, use your common sense if you start a campfire.
"If areas such as Rannoch are destroyed, there will be nowhere for anyone to visit and experience the serenity that nature, wildlife and beautiful scenery can afford. Is that what you really want?"
Earlier this week, local politicians John Swinney MSP, Pete Wishart MP, and Councillor Mike Williamson met with constituents affected by recent instances of dirty camping.
The meeting, which took place on the banks of Loch Tummel, gave constituents an opportunity to share their experiences and discuss steps that can be taken to reverse the trend of anti-social behaviour.
The three SNP representatives then took part in an online video call with other residents to continue discussing the topic.
Mr Swinney said the issue is a complex problem that cannot be solved with one action or by one organisation, calling for a collaborative approach with continued engagement on the issue.
However, the Deputy First Minister said he is confident there is now an acceptance from all affected parties that the current situation is not sustainable and that action is required.
He said: "I am thankful to Police Scotland for their continued engagement on this issue, and for the additional resources that they have allocated to policing dirty camping hotspots.
"However, I will be looking to speak directly with the Chief Inspector to advocate for tougher enforcement of existing legislation.
"A key part in tackling this issue is demonstrating clearly that there will be repercussions for those who behave in an unacceptable manner."