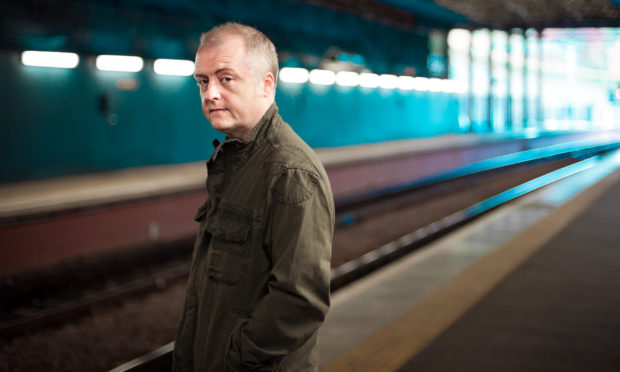 Rob Adams speaks to pianist, improviser, composer and arranger Dave Milligan about how he's been coping with the challenges of lockdown.
The term versatile might have been coined with Dave Milligan in mind.
Although restricted to largely private music-making, like musicians the world over in recent months, in normal times Milligan might have been out and about as the director of Perth Concert Hall's youth folk orchestra the Gordon Duncan Experience, named in tribute to the innovative bagpiper from Pitlochry.
He has also worked closely with the massive Love Music community choir in Edinburgh, has been the pianist and musical director behind Scottish trumpeter Colin Steele's award-winning international success over the past twenty years, and recently acted as musical supervisor with former Dire Straits frontman Mark Knopfler on the stage musical version of Local Hero.
On top of that, Milligan has a gig diary that has included dates with ace session guitarist Larry Carlton (best known for his work with Steely Dan, Joni Mitchell and the Crusaders).
Then there's his concerts with Nashville-based gospel music legends the McCrary Sisters, Indian percussion master Trilok Gurtu, singer-songwriter Karine Polwart, Fringe cabaret favourite Camille O'Sullivan and jazz greats Joe Temperley, Art Farmer and Carol Kidd. And that's just the tip of the iceberg.
While in lockdown Milligan decided that it might be time to concentrate on his own music. In the noughties he released two very well received albums, Late Show and Shops, with his trio.
Veteran jazz reviewer John Fordham, writing in The Guardian, rated both releases as among the very best European jazz has to offer, and leading magazine Jazzwise was similarly enthusiastic.
"I'd been thinking it was getting on for ten years since the second of those two albums, Shops, came out," says Milligan.
"Then someone pointed out that Shops was actually released in 2008 and that seemed like an awfully long time ago."
In 2015, somewhere in between a series of albums and projects with Colin Steele, theatre work with storyteller Mike Maran, an album and touring with international fiddler band String Sisters and concerts with the Unusual Suspects, the orchestra he co-leads with his partner, harpist and singer Corrina Hewat, Milligan took time out for some personal development.
"Creative Scotland gave me a bursary to enable me to go and study with the Soviet-Norwegian pianist Misha Alperin just outside Oslo for a few days," he says.
"That was fantastic because I love Misha's playing and I learned a lot during that trip. With the rest of the bursary I decided to get together with two Italian musicians I'd met during an international collaboration I'd been involved in at Edinburgh Jazz Festival with Colin Steele. Danilo Gallo and U. T. Gandhi were the bassist and drummer on that project and I'd been struck by the energy and understanding the three of us created together as a rhythm section."
Gallo and Gandhi had told Milligan about a studio in northern Italy, ArteSuono in Udine, which sounded idyllic in its location – it's surrounded by the Italian Alps. It seemed perfect for the experiment that Milligan had in mind.
"The guys were very enthusiastic about the piano in the studio and when they told me about the engineer who owns it, Stefano Amerio, I thought, I have to work with this guy," says Milligan.
"Stefano has worked on more than forty albums for the ECM Records label, which might not mean very much to the lay person but to most jazz musicians and jazz listeners this is quite significant.
"The ECM label is renowned for its sound quality and I knew a lot of the records Stefano had worked on."
Despite the high quality of everyone and everything involved, Milligan wasn't expecting to bring anything tangible back from the two days he booked in ArteSuono.
"Before we started playing," he says, "I told Danilo and U.T. that if we didn't even record one complete track, that was fine. This was really just about me letting go and being in the moment. I really just wanted to play some music with them. Then, of course, as soon as we started playing everything felt great."
Never mind one complete track, over the two days, the trio recorded twenty tunes. Nothing happened with them, though, until Milligan started going through the recordings he had stockpiled while working on other people's projects.
"When I listened to the Udine sessions, I thought they were too good to be languishing on the shelf," says Milligan.
"I chose seven tracks and was really taken with how they flowed together. So they became Momento, the first of what I think could be two or maybe three albums from those same two days."
As well as being the product of a really enjoyable session, Momento brings two of Milligan's main musical interests – folk music and jazz – together on one disc.
Growing up in the Borders, he began playing piano at the age of seven. By the time he left school he had only one profession in mind – pianist – and studying at the City of Leeds College of Music gave him the ideal preparation.
When he returned to Scotland, he slipped easily into the jazz scene. As well as playing with local personalities he was soon being hired to accompany top visitors from the U.S. and London, often with minimal rehearsal.
The cool accomplishment apparent on Momento was present on gigs with demanding soloists including saxophonists Scott Hamilton and Peter King, trumpeters Art Farmer and Valery Ponomarev and singers Carol Kidd and Tina May.
May, who toured Scotland just before lockdown came into force, remembers a concert with Milligan at Dundee Rep many years ago when, she says, "he knew all the songs I wanted to sing and it felt like we'd been working together forever."
As well as playing jazz, with his partner, Corrina Hewat, Milligan began exploring traditional ballads and imaginately rearranged Robert Burns songs.
Instrumental versions of two Scottish folk songs, Parcel of Rogues and Freedom Come All Ye, feature on Momento, which is released on 28th August, and Milligan's folk connections now extend across both the North Sea and the Atlantic.
In the late 1990s, the Shetland fiddler Catriona Macdonald asked Milligan to form the core of a new quartet. This led to work with a bigger band, String Sisters, which features Macdonald and Milligan with musicians from the U.S., Scandinavia, Ireland, and Scotland.
It doesn't take too much of a leap to imagine String Sisters' six-strong fiddle frontline cruising over the grooves Milligan creates with Gallo and Gandhi on Momento.
String Sisters made their debut in 2000 at Celtic Connections in Glasgow, a festival at which Milligan has played every year since it began in 1994.
All sorts of projects have resulted, from his commissioned piano duet, Lifting the Lid, with Andy Thorburn, through to the debut of the forty-strong Unusual Suspects, comprising folk musicians, jazz instrumentalists and singers including Karine Polwart and Kris Drever.
The late multi-instrumentalist and maverick techno-folk experimentalist Martyn Bennett attended the orchestra's first performance and ventured afterwards that he had just heard "a marvellous racket."
Milligan, ever laid back, takes the corralling of forty such talents in the same unassuming stride as he does when talking about sharing the stage with some of the biggest names in the business, including Larry Carlton, whose guitar playing almost defines classic recordings such as Steely Dan's Kid Charlemagne and Joni Mitchell's Help Me.
The pianist's calm approach to organisation has also seen him compose Sylvander & Clarinda, a 90-minute suite based on the letters between Robert Burns and Agnes McLehose, for a cast of twenty, including international jazz orchestra, Scottish folk singers and featured soloist, Fife-born Duke Ellington alumnus Joe Temperley. Another project, the Stone Islands Big Band, found him overseeing an orchestra comprising Scottish, Italian and Sardinian musicians.
His apparent unflappability shouldn't be misread as neutrality, however. Get him talking about the atmosphere and background story to Momento (and its possible successors) and he waxes lyrical.
"Something changed for me over those few days in Italy – not so much in terms of my musical vocabulary or technique, but in terms of where the music comes from in performance, and allowing it to flow," he says.
"As well as having great musicians and a great engineer to work with, the landscape around the studio is inspiring. When I arrived in Udine, I stood for a while on the balcony of my room and tried to take in the panoramic horizon that was the Alps.
"It was unexpected and breath-taking; particularly bathed as it was in the colours of a humid summer evening. A long way away – on so many levels – from the rolling hills of the Borders, where I grew up. But, for a moment at least, it felt like home."