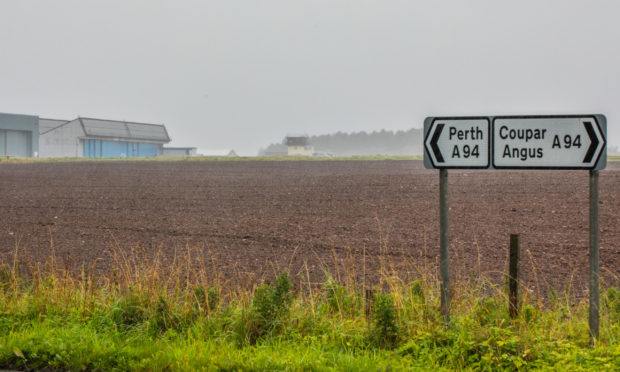 Ambitious plans for a retirement village beside Perth Airport were rejected by councillors, who said developers were trying to gain permission "by backdoor means."
Plans for a chalet complex were approved almost a decade ago for an agricultural site just north of the A94 airport.
The blueprints which were signed off in 2011 allowed for 52 holiday accomodation units in a field between the airport and Balbeggie, screened by existing woodland.
Little has been done at the site, other than the formation of access from the busy main road in around 2014.
In May, developers Morris Leslie returned to council planners, asking to change the conditions on the site.
Management at the Carse of Gowrie-based firm asked the local authority to sign off on changes which would allow chalet owners aged 55 and above to live at the site on a permanent basis.
In a report the firm sent to Perth and Kinross Council, they stressed the benefits to elderly people of living in complexes like their A94 chalets, highlighting Scotland's ageing population and the need to free up homes for younger families looking to get a foothold on the housing ladder.
However, the plans, which featured no design changes, were rejected and dubbed as a "backdoor" method of achieving full planning permission for a housing development.
Councillors were unanimous in agreeing to planning chiefs' recommendation to knock back the change of conditions.
The developers will still be able to proceed with the holiday park plans, which have been signed off, but suggested to council officers that this may no longer be viable.
The site falls outwith the council's local development plan for housing and councillor Willie Wilson said: "I think this is quite clear. It isn't just a matter of layout or design or roads. It's a fundamental principle.
"In my opinion, this is trying to get a housing development by backdoor means, to be quite blunt."
His views were echoed by Councillor Callum Purves, who highlighted concerns about how infrastructure such as roads and the local GP surgery could handle a full time influx of new residents.