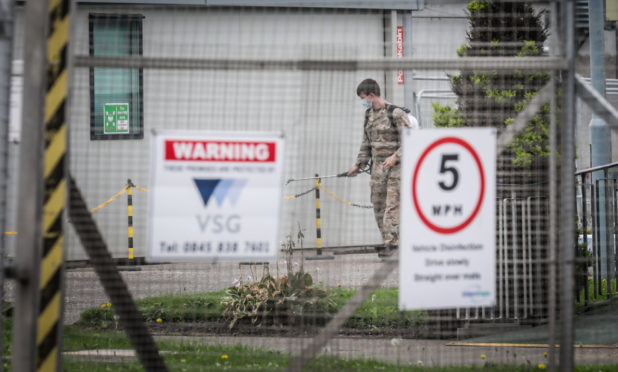 First Minister Nicola Sturgeon has made a direct plea to workers at the 2 Sisters chicken factory in Coupar Angus.
At her daily briefing on Tuesday, Ms Sturgeon addressed the 900 employees who were forced into quarantine last week, and told them to stay indoors and fight the temptation to "nip out" to the shops.
Police Scotland has been dealing with sightings of staff out and about in the community, with some employees spotted at the town's Scotmid store across the street from the factory.
Ms Sturgeon said employees complying with guidelines – even if they have tested negative – was key to halting the spread of the infection in the community.
In a bid to reinforce the message, 2 Sisters told staff their wages would be conditional on staying in self-isolation.
The number of positive cases connected to the Perthshire plant stands at 152, including 134 workers and 18 of their contacts.
The First Minister said: "The process of contact tracing there continues, and I would expect to see these numbers rise a bit more in the days to come.
"To put this in context, the mobile testing unit at the 2 Sisters plant itself has tested more than 900 people, and other testing sites in Dundee, Forfar and Perth have between them tested more than 2,500 people."
She said: "The bit I want to stress – although I would repeat that we're not complacent about this – but at this stage, there is still no evidence of wider community transmission from this outbreak.
"That, of course, is positive given the scale of the outbreak that we have been dealing with."
Ms Sturgeon added: "I want to thank everyone involved in managing this outbreak. It's a huge amount of work that is being done.
"Let me thank, also, employees at the factory, and their households, who are now self-isolating.
"Let me stress how important it is that people in those households do self-isolate for the entire period advised, and it is until Monday, August 31.
"I can understand there might be a temptation to nip out, maybe go to a shop, or to see other people, but please do not do that.
"Even if you've tested negative in the last few days, it is still possible that you could develop and spread the virus, so please follow all of the guidance and stay at home.
"It is because people are complying with that, that so far we are managing to avoid this outbreak seeping into the community. Please bear with it, and stick with it, so that we can continue with that success."
She added: "Every time somebody doesn't self isolate when they've been advised to, we are risking seeing that virus spread from somebody else in another household and once that starts to happen then community transmission becomes a big risk.
"It comes back to the central point that we all have a part to play here, we all have a responsibility."
A spokesman for the 2 Sisters Food Group said its decision to continue to pay staff would help them comply with guidelines.
"We recognise these are unprecedented circumstances which has adversely affected our business and the local community," he said.
"Our company is very aware that the strict self-isolating rules imposed means some households may experience hardship, and we want to do all we can to minimise this."
He added: "This business is keen to support the local NHS teams and their call for whole household self-isolation, and this decision will help reassure colleagues and hopefully drive further compliance."
The move was welcomed by Unite Scotland. Regional officer Susan Robertson said: "United welcomes the decision by 2 Sisters to agree that all workers receive full pay during the self-isolation period.
"The workforce should not suffer any financial detriment bearing in mind their family members have had to self-isolate as well."
She added: "It's an imperative that this factory opens as soon as possible to ensure its long-term sustainability and Unite will work with 2 Sisters to ensure that the workplace is safe for when the workers return."