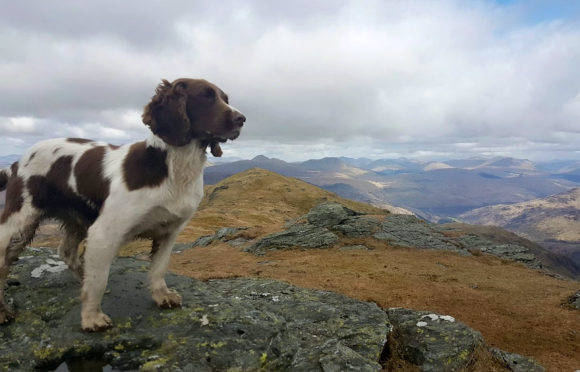 A springer spaniel who found fame after he conquered all 282 Munros has died after falling ill at his home in Kinross-shire.
The owners of retired gun dog Genghis paid tribute in a heartbreaking social media post, telling how they comforted him as he drifted off, telling him he was a "good lad".
Ex-army officer Mac Wright, from Milnathort, adopted the elderly spaniel in 2016 after his previous owner died.
They went on to become inseparable hiking partners, travelling all over Scotland in a camper van named Giovanni and 'bagging' mountains over 3,000ft high.
The duo tackled their final Munro in September, when they reached the 3,216ft summit of Sgor na h-Ulaidh in Glen Coe.
Kinross-shire springer spaniel Genghis climbs all 282 Munros to help other dogs save climbers' lives
They were joined by about 30 friends and followers, as well as a piper who played to celebrate the end of Genghis' three year campaign.
The climb, which raised more than £1,000 for Mountaineering Scotland, took place just before the springer's 11th birthday.
A statement released by Mac and his family on Facebook, confirmed Genghis' death.
"It is with great sadness that we have to tell you that our lovely boy went to sleep for the last time earlier this week," Mac said.
"He had been doing really well lately, the pain medication for his arthritis seemed to be working at long last and in the last few weeks he'd started to look much stronger.
"On Tuesday afternoon, he suddenly collapsed in the garden. We had him in the vets within 10 minutes where they scanned him and put him on a drip, because his blood pressure was dropping drastically."
The scan revealed a large mass on his spleen which had ruptured and was bleeding internally. "The vet told us that very often, when they operate, it turns out to be cancer which has spread to other organs and the prognosis is very poor," said Mac.
"We were also advised that there was no guarantee he would survive the operation, regardless of the type of tumour, or he might not recover well from such a major op due to his age and the fact that his immune system is affected by spleen removal."
He said: "We only had a few minutes to decide what to do and, of course, inevitably we have moments where we are doubting ourselves, but we had the vet bring him out to us all wrapped up cosily and we lay on the grass with him, stroking him and telling him what a 'good lad' he was, as he peacefully drifted off."
Genghis will be buried in the den at his home where he liked to hide his soft toys, the family said.
A cairn will be built to mark his resting place.