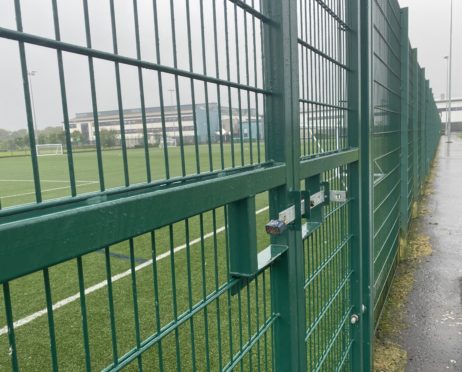 Families say Kinross youngsters are facing a "sporting-blackout" this autumn after a decision not to reopen outdoor facilities at the Loch Leven Community Campus until mid-October.
The playing fields in the school grounds have yet to reopen after lockdown, meaning all of the sporting clubs in Kinross will have to continue to share the limited outdoor pitches at The Myre and Donaldson Park in the town for training.
Council bosses said priority had to be given to maintaining pupils' education for now.
However, Brian Kenny, chairman of Kinross Colts youth football club said local youngsters were being put at a disadvantage compared to children in other parts of the country where community campuses have already opened.
"Clubs will be forced to cancel sessions, just as the local kids prepare for a new league campaign," he said.
"Everyone can understand the pressures which Covid 19 has placed on decision makers but it seems nonsensical that facilities like the library and museum can be open and yet, after months in lockdown, kids who are desperate to enjoy organised sport again are to be denied that opportunity in Kinross.
"Surely a joined-up approach across local authorities is not an unreasonable ask. Angus and Fife's outdoor venues have been operational since mid August, in line with Scottish Government's routemap."
He said his club alone had 350 members affected by the decision, including a women's team and three adult male teams.
"They are being disadvantaged, compared to their peers in other regions, and there needs to be an urgent rethink before they are left without any evening practice, he said.
Kevin O'Kane, whose two sons play at the club, said: "The kids have all been really patient waiting to get back playing again.
"The exercise and training in a team environment is really important for children's health and wellbeing, something which the council should be there to support and safeguard.
"We hope they will take this into consideration and get the facility open again as soon as possible."
Paul Cromwell, chief executive of Live Active Leisure, which runs sporting venues across the county for the council, said the Kinross facilities would be included in the next phase of venue reopening commencing October 19.
"We'll continue to work with Perth and Kinross Council in preparation for the reopening of activities within schools and campuses and will provide an announcement of our first phase offer on Thursday 1st October," he said.
A Perth and Kinross Council spokesperson said: "This situation is being be kept under regular review and we are working with Live Active Leisure to reintroduce a range of bookings after the October break.
"Our priority is the continued provision of education at the current time and ensuring it is maintained."