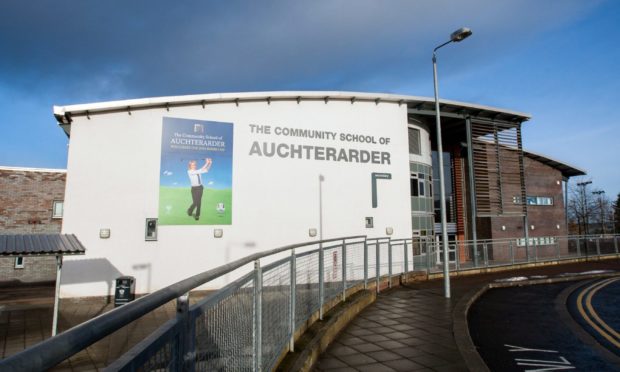 More than 40 children have been sent home after a confirmed case of coronavirus at a Perthshire school.
Health chiefs said a pupil at the Community School of Auchterarder tested positive for the virus at the weekend.
BREAKING: Pupil tests positive for coronavirus at Auchterarder school
The youngster – understood to be an S4 student – and around 45 others are now in self-isolation.
They have been told to stay home until Friday, October 2 – the day before schools break up for the fortnight-long mid-term holidays.
Public Health Scotland, which is working with Perth and Kinross Council and the Scottish Government to offer advice and support to the staff, pupils and parents, said there was no evidence of transmission within the building.
The 900-roll Community School of Auchterarder, which has nursery, primary and secondary departments, remains open to all unaffected pupils and staff.
Parents were alerted in an email from headteacher David Lambert on Saturday evening.
"I understand that this information may be of concern to you," he wrote. "Please be assured that this isolation is precautionary."
Mr Lambert added: "The multi-agency group has assessed the infection and prevention control plans that are in place in the school, and they have confidence in the stringent measures we have introduced to control the spread of Covid-19."
He said that the school will provide work for all youngsters self-isolating.
NHS Tayside Consultant in Public Health Medicine Dr Emma Fletcher said: "I would like to reassure parents that if you have not been contacted individually, this means that your child has not been identified as a contact in the school, and they can continue to attend school and undertake other activities as normal."
She said: "All appropriate precautions are in place and the school remains open."
In Perth and Kinross, the new term began with two positive cases at Newhill Primary in Blairgowrie and Oakbank Primary in Perth.
Recently, the health authority confirmed two suspected cases, linked to a positve infection, at St Madoes Primary.
Commenting on the latest infection in Auchterarder, Lifelong Learning Convener and Conservative councillor Caroline Shiers said: "I hope the pupil makes a speedy recovery.
"Every time there is a confirmed case of coronavirus in schools, it is unsettling for everyone in the school community.
"A number of pupils at the Community School of Auchterarder will have to self-isolate because of this case, but this disruption is necessary to prevent further spread of the virus."
She added: "Our dedicated teachers will continue to provide excellent learning online while pupils are isolated."