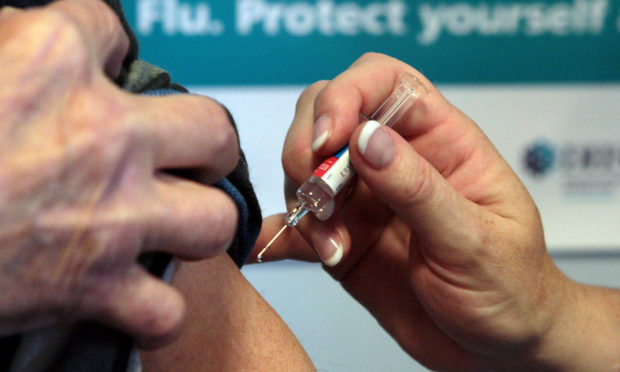 Patients trying to book flu jabs in Tayside have been left confused after being directed towards a national helpline number which cannot be used to make appointments.
A letter was sent to eligible vaccine recipients across Scotland but did not take into account the different measures implemented by each health board to administer the jab.
Health boards have been urging residents to take up the flu jab this year, with one Tayside doctor, Hamish Dougall, warning patients they are at a "significantly increased risk" if they contracted Covid-19 and the flu at the same time.
The mix-up came to light after a medical centre in Highland Perthshire told their patients to ignore the number on the letter  and call them directly.
Aberfeldy and Kinloch Rannoch Medical Practice said: "We have been notified that the national flu invitation letters advise patients to call a national number, this is incorrect.
"If you have received a letter please call either Aberfeldy or Kinloch Rannoch  to make an appointment."
The number on the letter, which asks patients to make their flu jab appointments, is for information centre and cannot be used to make the bookings.
NHS Fife apologises as 'unprecedented' demand for flu jabs swamps dedicated phone line
NHS Tayside has sought to clarify the situation, releasing their own statement on how people within their catchment area should book appointments.
Releasing their own programme for vaccination which begins next week, NHS Tayside has urged eligible residents to get the flu jab.
Dr Daniel Chandler, NHS Tayside associate director for public health, said: "With the significant likelihood of COVID-19 circulating alongside flu this winter, NHS Tayside is planning on vaccinating more people than ever before in order to protect our most vulnerable population and reduce the impact on our health and social care services.
Fears poor uptake of flu vaccine could spell disaster if second wave of Covid-19 hits
"This year's flu vaccinations will be delivered in a variety of settings including GP practices, hospitals, outpatient departments, schools and local authority venues, care homes and community pharmacies on an appointment basis.
"NHS staff will be wearing appropriate protective equipment and individuals attending for their flu jab will also be asked, where possible to wear a face covering to their appointment and should not attend if they have symptoms of Covid-19."
People aged 65 and over, adults with a long-term health condition should contact their GPs but have been warned that the appointment may not take place in their own practice.
Primary school pupils will be offered the flu vaccination at their school, while parents of children aged 2-5 who are not yet at school, and young people aged 12-18 with a long-term condition should contact 01307 475240 to book an appointment.
Pregnant women can access immunisation through their midwife while all NHS Tayside staff and frontline social care workers are also strongly encouraged to take up the offer of a flu jab.
The second vaccination phase is planned to begin in December and will include those aged 55 to 64 who would not usually be eligible.