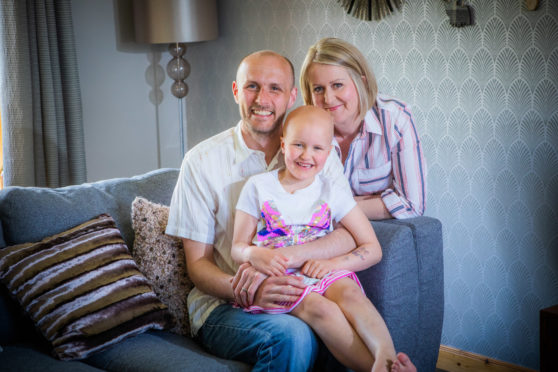 The parents of a Tayside schoolgirl who died from a rare form of cancer have donated items to help other children pass their time in hospital.
Claire and Andy Stewart of Inchture donated gift bags for youngsters who are being treated for cancer at Tayside Children's Hospital.
The couple made the presentation in memory of daughter Ruby, who died in January aged just six.
Items include phone chargers, drinks bottles, toothpaste, and toothbrushes.
Claire said: "The bags are something we've been panning for a while, just a few things for the patients and families going through what we went through.
"We've included a few practical things that might be needed when children are admitted urgently, such as toothpaste and toothbrushes.
"We've also provided some phone chargers with extra long cables in case people forget those in the rush to get into hospital, plus pens, notepads, drinks bottles and a few snacks, among other things.
"So hopefully a few fun things and a few practical things which might help just a little bit during the most difficult times."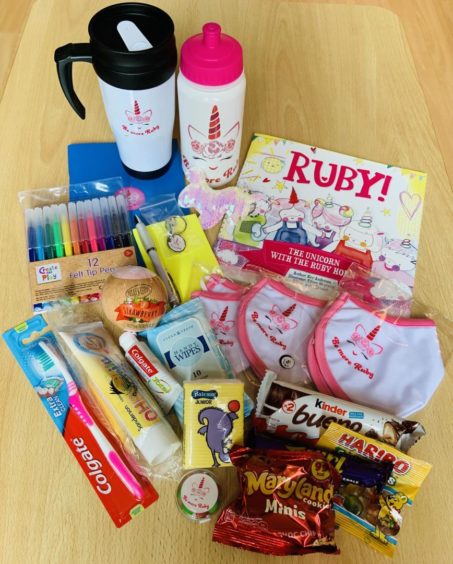 Accepting the donation, Paediatric Oncology Nurse Specialist, Marie Christie said Ruby had been an "exceptional little girl".
She said: "Throughout her illness, she was courageous and inspirational.
"She brightened the lives of everyone who met her with her sunny disposition and mischievous curiosity.
"It is clear that her kind and caring nature was inherited from her parents who continue to demonstrate their concern for others in this positive way."
Ruby was diagnosed with stage four alvelor rhabomyosarcoma, a rare bone and tissue disease, at only four years old.
Her courage inspired the local community to hold a series of fundraising events.
Claire and Andy have continued efforts to drive potentially life-saving research into the condition following her death.
They launched a range of face masks to raise money for the Children's Cancer and Leukaemia Group earlier this month. All money raised goes into a dedicated fund called Super Ruby's Rhabdo Raiser which supports research into her condition.
The family also plan to continue to support the children's hospital at Ninewells.
Claire said: "We'll keep providing them for as long as we can. Hopefully we'll have more to come soon for the family room.
"We're working on some ideas to spruce it up a bit and provide more comfortable surroundings for when patients have to stay in hospital for longer than just a few nights."