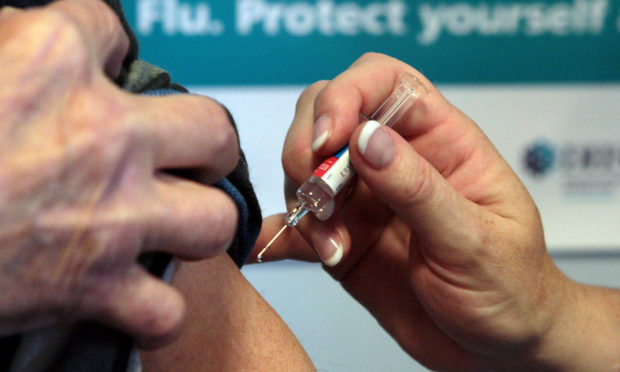 Angry Perthshire flu jab patients have been left unable to make appointments for the vaccine at new immunisation hubs despite health bosses saying bookings would begin on October 1.
Confusion reigns after Perth and Kinross Health and Social Care Partnership (HSCP) said patients eligible for the vaccine would be able to book appointments through their GP from Thursday.
However patients at Perthshire health centres claim this is not the case despite HSCP insisting that it is.
Issues arose with bookings at the hubs when a Blairgowrie couple in their seventies were told on Tuesday they would need to wait nearly eight weeks to get the jab at Ardblair Medical Centre.
When Ian McLeod, 74, questioned surgery staff, he was told the medical centre held no information on the centres previously announced by NHS Tayside.
Perthshire OAP couple told to wait eight weeks for flu jab amid confusion over vaccine hubs
When The Courier asked HSCP on Tuesday, the organisation said clinics would begin at additional local venues in October, with appointments available to be booked through a patient's own GP practice from Thursday.
However when another Ardblair patient phoned to make an appointment on Thursday morning they were told the medical centre still held no information on the hubs.
Elizabeth Blair-Smart was attempting to make an appointment for her husband and brother who is 90.
The Perthshire woman believes the incorrect information issued by HSCP on Tuesday was putting further pressure on health centres.
She said: "It's shocking. On contacting the practice (on Thursday) morning I was informed they have no idea when this vaccine will be available and I was referred to the number given on the standard letter.
"Misinformation (like) this simply puts more pressure on the surgery and gives people false hope of ever getting a flu vaccine."
Elizabeth said the surgery told her they might have more information by next week.
"It's for my husband and brother who is 90. He's not on the internet. He can't do all theses things we're doing (to get information)," she said.
A patient at Alyth Medical Centre complained that an automated message at the surgery advised patients that dates for the hubs would be released from October 12.
They also were unable to book a vaccine through other GP practices.
The Courier confirmed that this message to patients in Alyth was still active on Friday morning which instructs patients to hang up and call back at the later date.
Despite this, HSPC has insisted that bookings can be taken and that all GP practices are aware of the new dates and times for the hubs.
A spokesperson for the partnership between NHS Tayside and Perth and Kinross Council said: "The Health and Social Care Partnership is running additional vaccination clinics and has ensured that GP Practices are fully aware of the dates for these.
"This includes Ardblair Medical Centre.
"The booking system for these appointments is live as of Wednesday evening and GP practices in the area are already booking spaces for their patients at these clinics.
"Flu vaccination appointments are available to book now for all GP practices."
Flu jab chaos continues at NHS Fife as patient with diabetes claims it is 'impossible' to get appointment