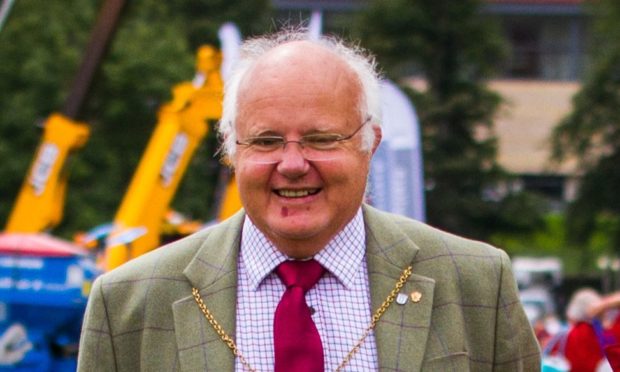 Part of a new £58 million secondary school will be named after a popular Perth councillor who died during lockdown following a brave cancer battle.
Former deputy provost Bob Band represented the SNP in the Perth City South ward for more than a decade.
As lifelong learning convener, he was a driving force behind Bertha Park High – the first brand new school to open in Scotland this century – and was instrumental in long-standing plans to rebuild his old school, Perth High.
PICTURES: No bell, no phones and no staff room…take a look inside Perth's £32.5m new school
He died in March this year, just months after designs for Perth High School were revealed to the public.
Now councillors have agreed to name a section of the new school in his honour.
The suggestion came from independent councillor Xander McDade who said an auditorium or lecture theatre would be a "fitting tribute" to Mr Band.
"He was not only a ward councillor, but he gave a huge amount to education across Perth and Kinross during his time as education convener," said Mr McDade.
Perth and Kinross Council agrees to press ahead with Cross Tay Link Road, Perth City Hall and other big projects
The move was enthusiastically backed by local SNP group leader Grant Laing, who described Mr Band as "one of life's true gentlemen."
He said: "This would recognise all of the work that he did for the area."
Mr Laing added that the tribute would be appreciated by Mr Band's family.
Council leader Murray Lyle agreed. "I appreciate the sentiment," he said. "I have absolutely no hesitation in putting this request forward.
"I am well aware of councillor Band's commitment, not only to his ward but also to education in his role as convener."
In late 2018, Mr Band found out he had an inoperable stomach cancer which spread to his lungs and liver.
Despite his illness, he continued to attend council meetings and events.
A small, intimate funeral service, held under current pandemic guidelines, was held in April.
This week, Perth and Kinross Council agreed to press ahead with plans for a replacement Perth High School, despite increased costs of £58.3 million.
Among the features proposed for the new building is a state-of-the-art cooling system, which would keep a constant stream of fresh air throughout the school, to help reduce airborne viruses.