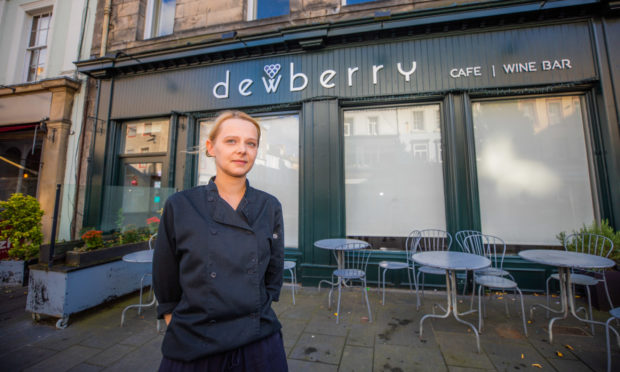 A popular Perth cafe has been forced to shut less than a year after its launch.
Management at Dewberry Cafe and Wine Bar announced it has become the latest business casualty of the coronavirus pandemic – and the latest name to pull out of the ailing city centre.
Owner Vinod Mathew only opened Dewberry in December last year, moving into the premises previously occupied by Reid's Cafe.
Like all hospitality businesses, it had to stop trading in the middle of March.
Restaurants, cafes, pubs and bars in Courier Country begin closing their doors as new restrictions come into effect
Vinod, who also owns the Breizh restaurant next door, said complications with the landlord left him no option but to shut the High Street venue earlier this week.
He has been able to transfer a handful of jobs to the adjacent French restaurant, including that of kitchen manager Marta Tyrakowska.
Marta said: "We had more plans to convert the cafe into a wine bar. We'd put a lot of work in.
"I'd been working as a waitress at Breizh and just moved into the kitchen as I had a massive interest in cooking.
"It was the perfect time and opportunity to move to Dewberry, so it's hard for us."
Announcing the closure, Vinod said: "A combination of the impact of Covid-19 on a new business that is still growing and expanding and issues with the landlord have made it impossible for us to continue trading.
"We tried everything we could to resolve these issues with our landlord but unfortunately, it was not possible.
"We have found this extremely disappointing in the current climate that they have left us with no choice but to close.
"We had great plans for this business but the hardest thing is having to let the majority of our staff go.
"We wish them well and would like to thank them for all of their efforts and hard work since we opened.
"We would like to thank all of our loyal customers who have supported us since we opened. Much love and goodbye from the team at Dewberry."
Perth has seen the number of businesses operating in its city centre diminish as a direct result of the pandemic. The city has lost chain diner Frankie and Benny's, while other High Street units previously occupied by Phase Eight and Argos now lie empty.
Brown and Blacks restaurant bosses have announced they are relocating from St John's Place to the building previously occupied by Kinnears Inn in Scone.