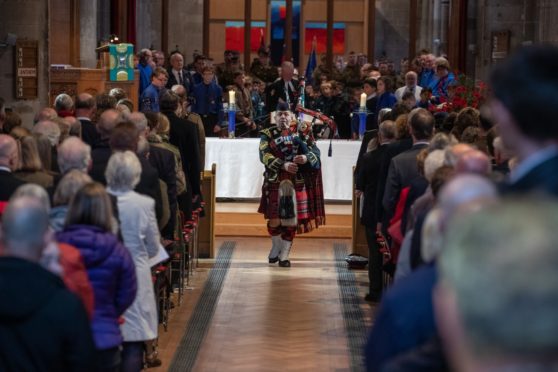 Perth has become the latest community in Tayside and Fife to reveal its scaled-down Remembrance Day commemorations.
Across Perth and Kinross, Fife, Dundee, and Angus, usual services to mark the day have had to adapt to current social distancing regulations.
Unlike previous years, there will be no military or civic parades in the city on Remembrance Sunday.
A shortened service will be held in St John's Kirk, with attendance being limited to a small number of invited guests.
The decision was taken under current coronavirus restrictions, which state no more than 50 people will be allowed inside the Kirk at any one time.
Among the attendees will be Lord-Lieutenant Provost Dennis Melloy, as well as senior military representatives from 7 SCOTS, the Royal Navy and RAF.
Mr Melloy said: "Unfortunately, coronavirus means this year's Remembrance Day commemorations cannot take place as normal.
"While we normally have hundreds of people paying their respects in St John's Kirk, this year only a few invited guests will be able to attend because of public safety concerns.
"However, I am pleased veterans will still be able to lay wreaths for their fallen comrades on 11 November."
St John's Kirk will be open on November 11 for veterans and military representatives to pay their respects.
The Kirk will be open for one hour from 11am for wreath laying with social distancing and a one-way system in place.
Attendees at both the wreath laying and the service on Remembrance Sunday will be required to wear face masks. However, exemptions will still apply.
Individual members of the Perth and District Pipe Band will also play a lament through the city centre.
Meanwhile, a pair of annual Perth events have been cancelled in response to the pandemic.
The commemoration of Polish soldiers who died during the Second World War – which is usually held at Wellshill Cemetary – and the PoppyScotland event at the Mercat Cross have been cancelled.
Mr Melloy said while this year's Remembrance events in the Fair City are on a smaller scale, the level of gratitude towards those who lost their lives remains the same.
"I know that while this year's events may be on a smaller scale than usual, they do not in any way diminish the debt of gratitude we all feel for those who gave their lives in service of our country."