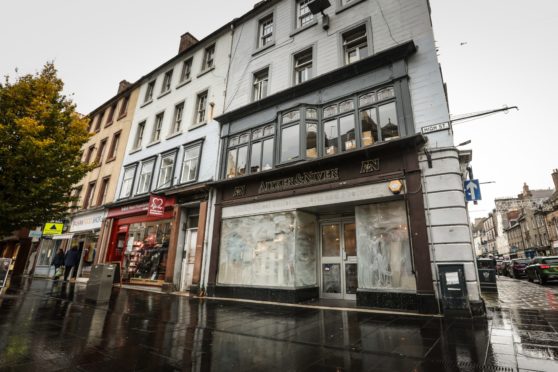 Perth High Street has been dealt another blow after bosses at one of its longstanding shops announced they were moving the business elsewhere in the city.
The Stevensons Aitken and Niven store on the Tay Street end of the road will shift in February.
The school uniform and sports equipment store has been at the corner of High Street and George Street for decades.
It's understood the business is moving to the Scott Street site being vacated by the Laws furniture shop.
The High Street store was closed on Saturday for maintenance work in the wake of August's storms.
In a statement the company apologised for the inconvenience, saying: "We are looking forward to opening a brand new store in Perth in a new location, early in 2021.
"In the meantime, we need to carry out essential maintenance work at our current Aitken and Niven branch at 21-23 High Street."
City centre Liberal Democrat councillor Peter Barrett said it would be "a sad loss to the High Street".
He said: "Stevensons Aitken and Niven store has been a High Street institution providing quality school uniforms, sportswear and equipment."
He said city centre retailers faced real challenges from online competition and the impact of Covid-19, and said there were issues with thge current business rates relief system.
Fellow city centre SNP councillor Andrew Parrott said: "I can only say that I am delighted that Stevensons are moving their premises in Perth rather than closing.
"I hope that all of the trade they had in the High Street will come back to them in Scott Street from February onwards.
"These are uncertain and difficult times. I am not alone in wanting to do as much as we can to maintain a vibrant retail heart to the city of Perth.
"To that end I encourage everyone to think hard about their online shopping and choose whenever they can to use local shops in Perth City."
The move follows the announcement that Laws of Perth at 85 Scott Street announced it is closing after 25 years.
Stevensons, founded in 1925, and Aitken and Niven, founded in 1905, were initially two separate companies specialising in clothing and schoolwear.
But following the retirement of managing director David Ferguson, grandson of Aitken and Niven partner William Ferguson, the company changed ownership and became part of Stevensons.