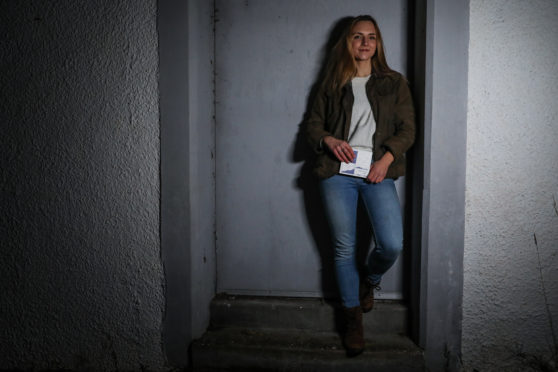 A Dunkeld musician will release her debut album by broadcasting a socially-distanced streamed gig with a difference.
Kirsty Fisher's debut album "Maps" will be launched on Friday with a professionally-shot live performance streamed on YouTube.
While singer-songwriter Kirsty, who also plays cello and guitar on the record, was performing in An Tobar studio in Tobermory on Mull, her lighting and camera crew were operating the set from a safe and socially-distanced control booth in Perth.
The entire indie folk album was recorded at the island theatre, which was converted in 1997 from a derelict Victorian schoolhouse.
Kirsty recorded the ten-track album, which she says was inspired by the outdoors she grew up in, with sister Hannah and her partner Sorren Maclean, both professional musicians.
The rest of the production has been completed by a host of Scottish talent, from the studio work to the album cover.
She said: "Maps is my debut album and it's my first time back in the studio since I was in primary school.
"I recorded the album in February 2018 and went abroad to work on yachts. Since coming back, I've it's been mastered and mixed and we've filmed a video for the title track, which was released in September.
"The video was shot at Rumbling Bridge near Dunkeld and near Oban, where I used to stay.
"It was a strange atmosphere recording the gig, because you usually have to read the audience. It was great being able to record in our bubbles though."
The album has given Kirsty, who works at Corbenic, something to help get her through 2020, after suffering a turbulent beginning to lockdown life.
She and partner Calum had been working on boats in Antigua since before Christmas and were due to return to Scotland in May.
On the night Calum heard the news that his father has been diagnosed with stage four pancreatic cancer, the Antiguan border force imposed a total lockdown.
The couple had to fight against the odds to get home, having seen the Caribbean island's airport closed for a week and travel severely limited.
And having hoped to launch the album with some live gigs, Kirsty is hoping the feelgood factor can continue with some fair-weather outdoor or intimate performances in the Spring.
The album will be available on online streaming platforms and at Kat n Kat in Dunkeld.