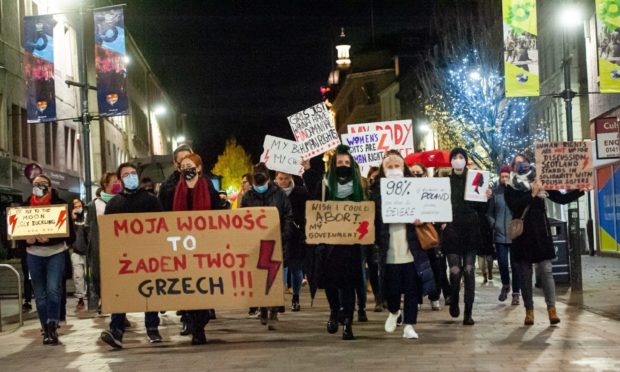 Polish residents in Perth have protested against "inhumane" strict abortion laws in their homeland.
Organised by Perth woman Anna Gwizdalska, the protest went ahead on the Fair City's Tay Street on Friday evening.
A court ruling in Poland introduced a near-total ban on abortion in the country, limiting procedures only to cases of rape, incest, or where there is a threat to the mother's life.
The controversial ruling has sparked mass protests in the country that have continued for more than one week.
Anna has lived in Perth for eight years. She still has family in Poland, and described the nation's strict abortion law as an "outrage".
"Poland is in the EU and we have to do something about this. It is against human rights – it is disgusting and it's awful. It is an outrage – it's medieval."
Anna believes the move will lead to women undergoing illicit abortions which could put their health at risk.
"It will make it more dangerous. Women will go abroad, or do it themselves, or go underground to do it.
"We should have a choice – it shouldn't be men in parliament of the church who decide.
"Even though we live here, we still have family in Poland. I have a sister there and I have to do something about this. It [was] a peaceful protest but we had to make some noise."