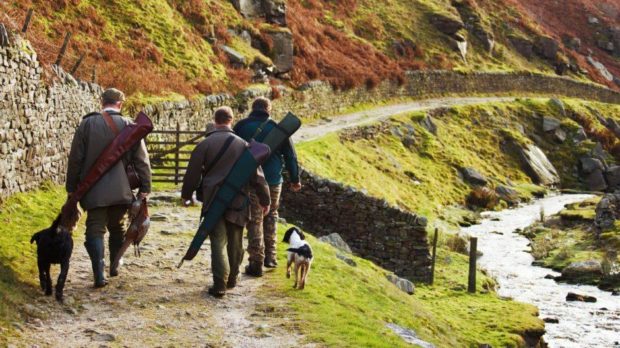 Almost two thirds of Scottish gamekeepers have experienced abuse or threatening behaviour, according to new statistics.
The British Association for Shooting and Conservation (BASC) – based in Dunkeld – described the revelation that 64% have experienced abuse as "concerning".
The finding comes as part of wider research into the employment rights of gamekeepers, which was commissioned by the Scottish Government.
Other findings suggest up to 79% of gamekeepers feel "less optimistic" about their futures.
BASC Scotland's Political and Press Officer, Ross Ewing said: "The findings of this research are deeply concerning and suggest that a significant number of gamekeepers across the country are experiencing unacceptable levels of abusive or threatening behaviour.
"It is clear that this contemptuous behaviour is in part a product of concerted and maligned campaigns against shooting.
"It is incumbent on the Scottish Government to take steps to support Scotland's gamekeepers who make an important and undervalued contribution to both society and the managed countryside."
Shadow Cabinet Secretary for the Environment, Climate Change and Land Reform, Liz Smith MSP described the revelations as "reprehensible".
The Mid Scotland and Fife representative said: "The alarming amount of threatening behaviour and abuse being levelled at Scotland's gamekeepers is reprehensible.
"Gamekeepers play a critical role in managing the Scottish countryside and they should absolutely be able to conduct their work without fear of being threatened or abused."
She added steps should be taken "without delay" to tackle the issue.
A Scottish Government spokesperson said: "All workers, including gamekeepers, deserve protection from abuse and violence.
"Those who threaten or abuse staff can be prosecuted using, for example, offences of assault and threatening or abusive behaviour.
"We will give careful consideration to the findings of this extensive research and expect to provide our response to the recommendations of the report later in the autumn."
A Police Scotland spokesperson said: "Police Scotland is committed to keeping all members of the public safe across Scotland and anyone making a report about incidents of violence or threats of violence against them can be assured that a full and thorough investigation will be carried out."
Perthshire gamekeepers demanded greater protection following attacks on estates back in September.
Estate workers said their lives were "being made hell" following attacks on both individuals and properties.
Workers claimed they had been spat at and had tools stolen by people walking on their land.
In September, CCTV cameras recorded three women interfering with a legal predator trap, with the gamekeepers later discovering two of the devices had been damaged with another missing.
Meanwhile, concerns have been raised over "increasing harms" brought by grouse shooting.
Wildlife charity, Royal Society for the Protection of Birds (RSPB) says the "harms" should not be overshadowed by economic revenue.
RSPB Scotland Head of Species and Land Management, Duncan Orr-Ewing said: "We do not take argument with the fact that grouse moor management may produce local economic benefits, however it is also equally important that these benefits are not exaggerated.
"We do not think these economic benefits detract either from the need to take action over the increasing harms that intensive driven grouse shooting is causing to the environment, climate and nature emergencies."